Omron

Omron Corporation is a leading industrial automation company that leverages its core sensing & control technologies to expand into businesses, such as control components, electronic components, automotive electronic components, social infrastructure, healthcare, and the environment. Omron was established in 1933, and has around 36,000 global employees, offering products and services in over 110 nations and regions. In the industrial automation business, Omron is contributing to making an affluent society by offering automation technologies which drive innovation in manufacturing as well as products and customer support. For more detail, www.industrial.omron.eu
Omron
Omron Europe B.V.
Wegalaan 67-69
2132 JD Hoofddorp
Netherlands
17 Jan 2019
On Wednesday, December 5, around 100 professionals gathered in Malmö to attend an Omron conference about the use of artificial intelligence in the manufacturing industry. The conference emphasized the fact that the technologies are ready and available — it's just the business cases that are waiting for their finishing touches.
16 Jan 2019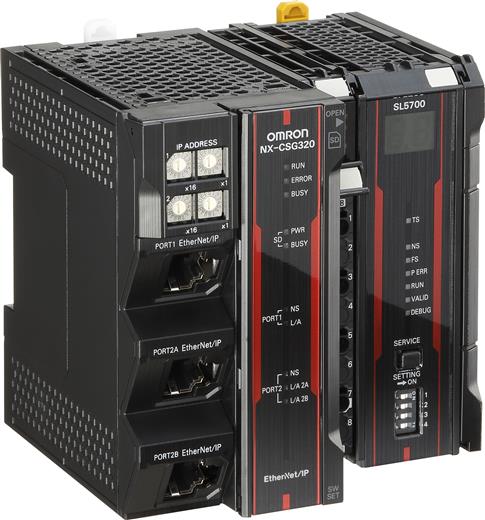 World's first*1 advanced safety controller to support two industrial safety networks for industrial robot systems
17 Dec 2018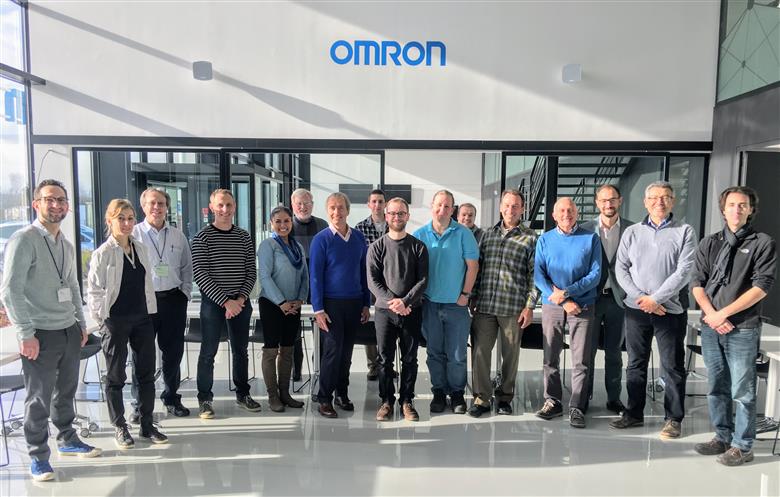 The first F45 summit in Europe took place at Omron's new Innovation Lab in France. The event aims to ensure productive deployment of innovative mobile robotics technology.
7 Dec 2018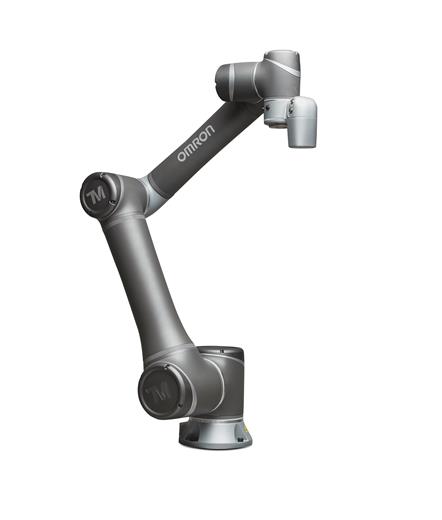 Omron Corp. (HQ: Shimogyo-Ku, Kyoto. President and CEO: Yoshihito Yamada) has announced the global launch of the TM series collaborative robot family to realize an innovative manufacturing environment where humans and machines work in harmony. With the various vision functionalities and the simple, intuitive programming environment of the TM collaborative robots, Omron will further enable safe, flexible, and collaborative manufacturing between human and machine.
8 Nov 2018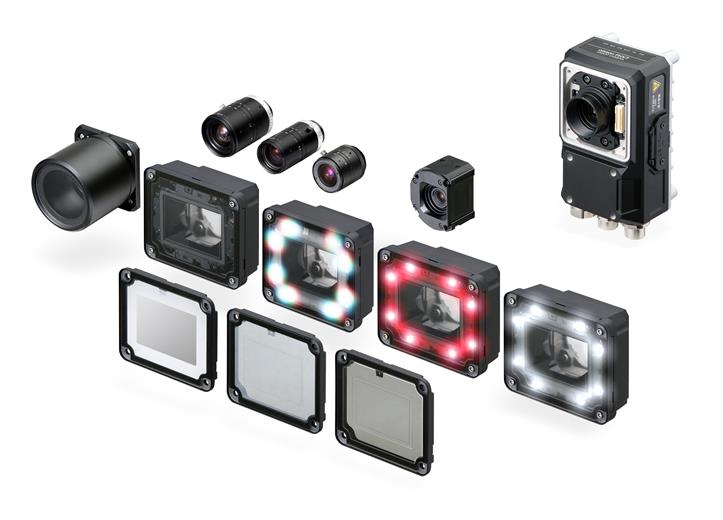 Omron Corporation (HQ: Shimogyo-ku, Kyoto. CEO: Yoshihito Yamada) has announced the global release of its new FHV7-series Smart Camera combined with illumination and image processing functionality for advanced vision inspections. Thanks to the world's first multi-color light*1 and a best-in-class*2 12-megapixel high-resolution camera, only a single FHV7-series Smart Camera is required for achieving the industry's highest standards of precision in vision inspections on a high-mix production line.
22 Oct 2018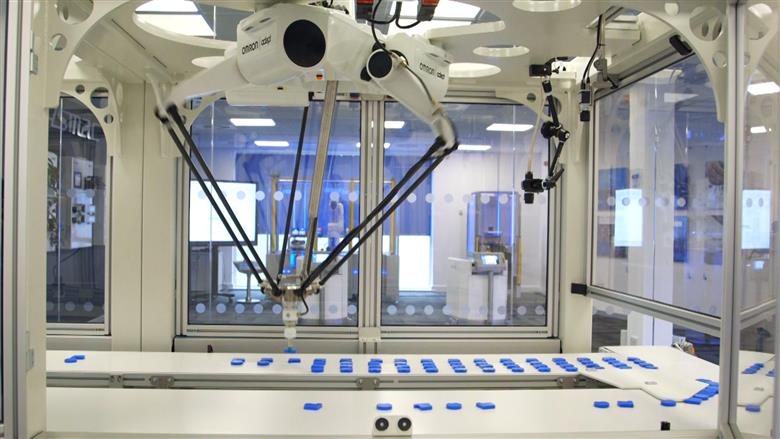 Omron has opened a new Robotic Innovation Lab at the company's UK headquarters in Milton Keynes. The lab, which represents an investment of £600,000 with a creation of five new jobs, is set to demonstrate how robots can be a boon to the UK manufacturing industry, as well as providing customers with a realistic overview of how robots can enhance their own individual applications.
18 Oct 2018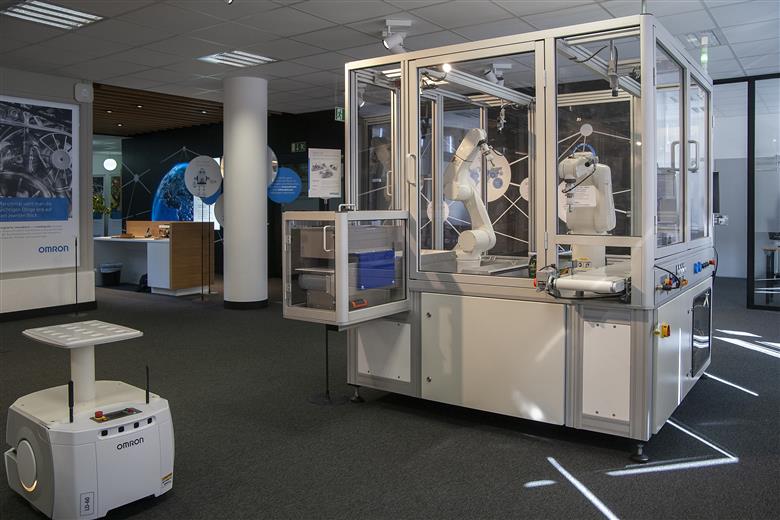 Omron – one of the world´s leading suppliers of industrial automation – is proud to open the doors of eight new Innovation Labs in Europe. These labs enable manufacturers to experience the benefits of having a connected, automated and intelligent factory, optimized with the latest automation and robotics technologies, in addition to proof of concept testing for new environments.
17 Oct 2018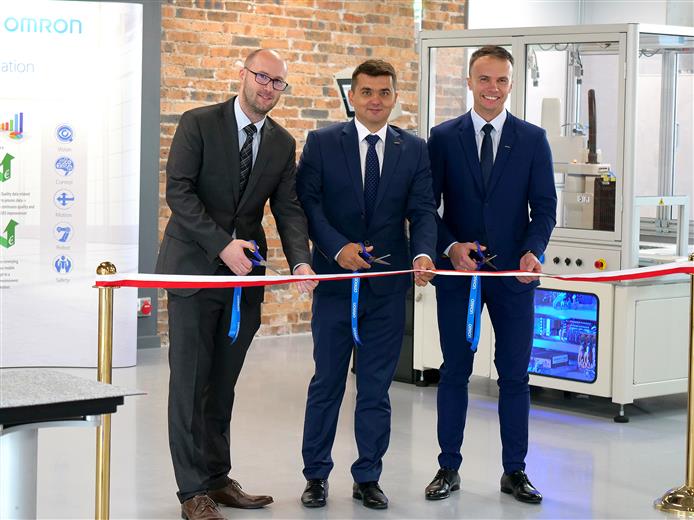 W jaki sposób możliwe jest zwiększenie efektywności produkcji dzięki automatyzacji procesów? We właśnie otwartym Laboratorium Omron Innovation Lab w Tychach, firmy z różnych gałęzi przemysłu oraz ich menedżerowie będą mogli sami przekonać się w jaki sposób zaawansowana technologia pozwala optymalizować produkcję i wdrażać innowacje. Laboratorium zostało wyposażone w całkowicie zrobotyzowane i zautomatyzowane środki produkcji odtwarzające realia inteligentnej fabryki.
4 Oct 2018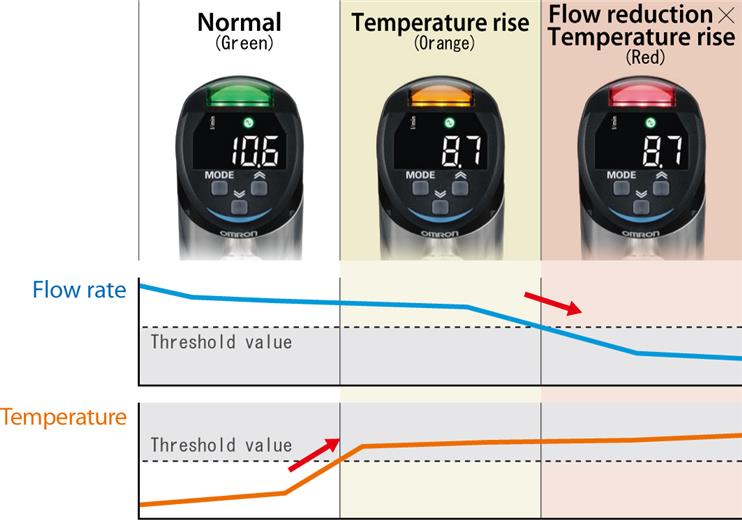 New Flow sensors E8FC and Pressure sensors E8PC from Omron bring a new generation of innovative solutions for controlling industrial processes that use different fluids and gases. Based on a unique technology, these new sensors perform double monitoring of the main parameters of flow or pressure. In addition, they provide temperature control and can give advanced warning of process abnormalities with bright coloured visual signals and easy-to-read parameters on a high visibility black and white organic indicator (see Pic.1).
27 Sep 2018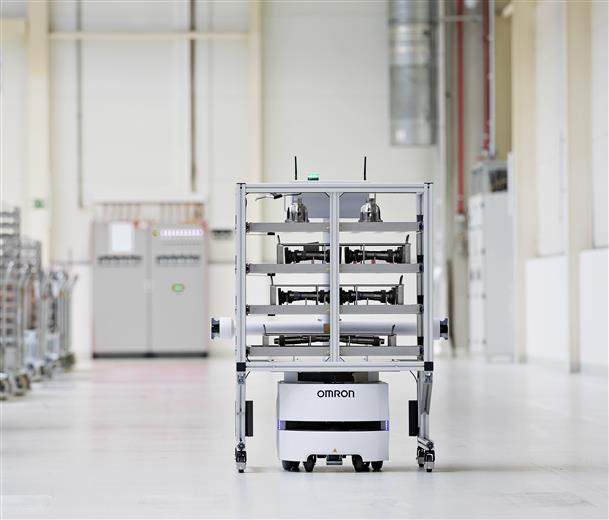 The autonomous robot contributes to the continuous improvement of work safety in Vrchlabí and helps to minimise work risks. It recognises people crossing its path as well as other vehicles and stationary obstacles.
26 Sep 2018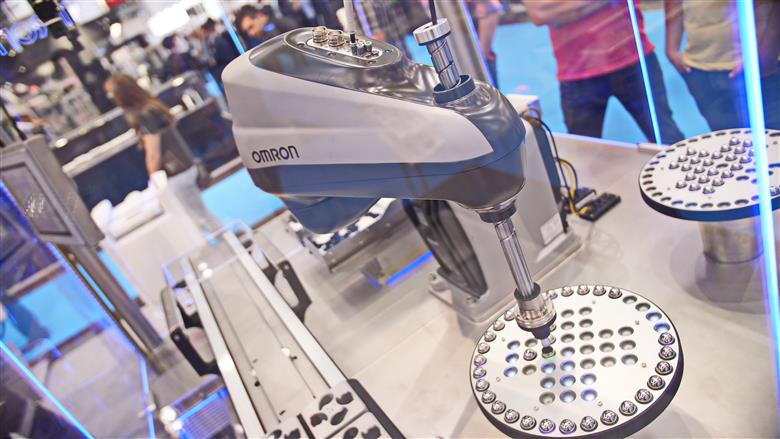 Flexible production line demonstration features OMRON's new i4 SCARA robot with the world's first built-in signals for preventive maintenance to reduce downtime.
21 Sep 2018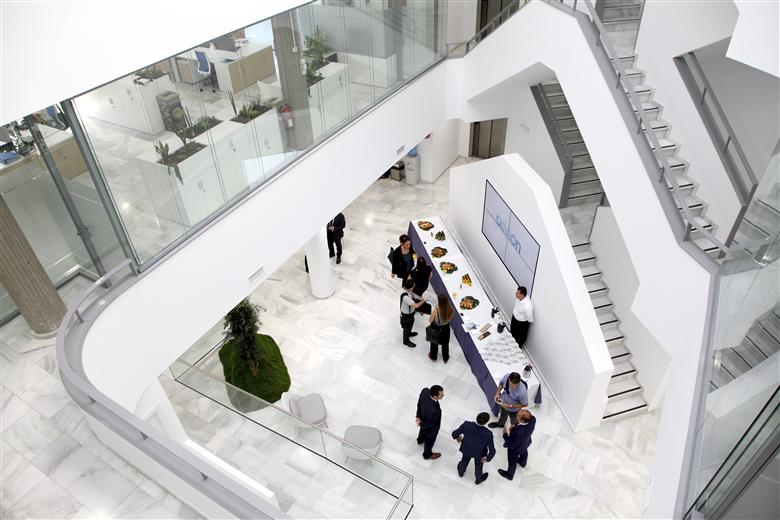 ¿Cómo se puede aumentar la productividad mediante la automatización de procesos? En el nuevo Laboratorio de Innovación de Omron en Madrid, se invita a los clientes a adquirir experiencia en el manejo de las tecnologías de automatización y a trabajar en equipo para implementar mejoras, hacer pruebas reales de funcionamiento y validar soluciones. Las instalaciones ofrecen ejemplos de sistemas totalmente automatizados que simulan entornos reales de fábrica, incluyendo la integración de soluciones intralogísticas móviles.