UniteChem
UniteChem Group, with global headquarters in Suqian City, Jiangsu (China), is the world's #1 supplier of high-performance light stabilizers for plastics in a wide range of demanding industrial applications. As one of China's largest specialty chemicals companies, the Group has diversified activities in R&D, application development, production, sales, trading and machine manufacturing. It specializes in the production of light stabilizers, UV absorbers and other related products.
With a workforce of about 1,650 employees worldwide, UniteChem generates a turnover of approximately EUR 300 million and supports its growing customer base through several production plants in China and a strong network of sales, service and warehousing facilities throughout Asia, the Middle East, Europe and the Americas. Its operations are fully certified to ISO 9001, ISO 14001, ISO 45001 and OSHAS 18001. In 2020, the Group also succeeded in passing a strict Together for Sustainability (TfS) audit, a de facto global standard for environmental, social and governance performance of chemical supply chains based on the UN's Global Compact and Responsible Care® principles.
UniteChem
www.unitechem.cn
20 Apr 2021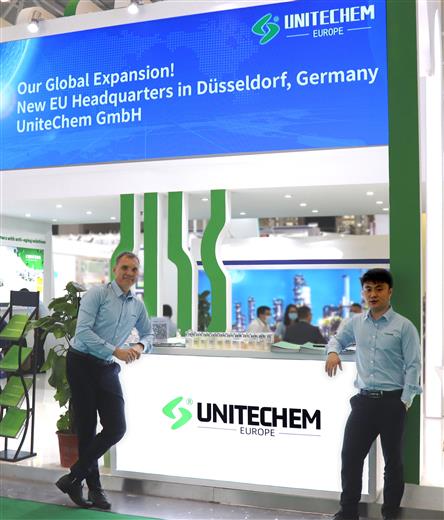 UniteChem Group, the world's leading supplier of light stabilizers for plastics in a broad range of high-end industrial applications, has announced that it is expanding its European footprint with a new sales office in Düsseldorf, Germany. The Group has already been serving its customers throughout Europe over many years and will now make a major investment into Europe as part of its global expansion strategy.