SABIC
SABIC is a global diversified chemicals company, headquartered in Riyadh, Saudi Arabia. It manufactures on a global scale in the Americas, Europe, Middle East and Asia Pacific, making distinctly different kinds of products: chemicals, commodity and high performance plastics, agri-nutrients and metals.
SABIC supports its customers by identifying and developing opportunities in key end-use applications such as construction, medical devices, packaging, agri-nutrients, electrical and electronics, transportation and clean energy.
SABIC recorded a net profit of SR 16.53 billion (US$ 4.41 billion) in 2022. Sales revenues for 2022 totaled SR 198.47 billion (US$ 52.92 billion). Total assets stood at SR 313 billion (US$ 83.46 billion) at the end of 2022. Production in 2022 stood at 61 million metric tons.
The company has more than 31,000 employees worldwide and operates in around 50 countries. Fostering innovation and a spirit of ingenuity, SABIC has 9,948 patents and pending applications, and has significant research resources with innovation hubs in five key geographies – USA, Europe, Middle East, South Asia and North Asia.
SABIC
Europaboulevard 1
6135 LD Sittard
Netherlands
19 Sep 2023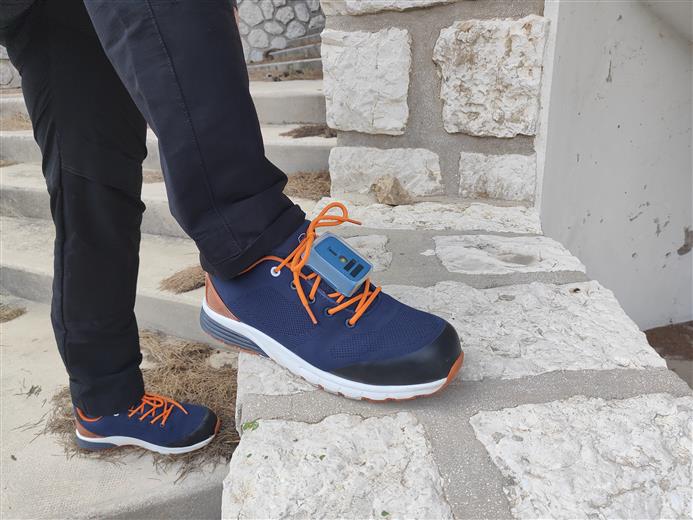 SABIC, a global leader in innovative material solutions, and INTELLINIUM, a leading provider of advanced safety solutions, are pleased to announce a successful collaboration that led to the development of ATEX-certified Personal Protective Equipment (PPE) utilizing SABIC'S LNP™ STAT-LOY™ compound.
12 Sep 2023
SABIC has been named a winner of the 2023 R&D 100 Award, a global science and innovation competition, for its innovative solution, demonstrating how the company is continuing to invest in technology and innovation across multiple industries to help its global customers develop and deliver winning solutions.
11 Sep 2023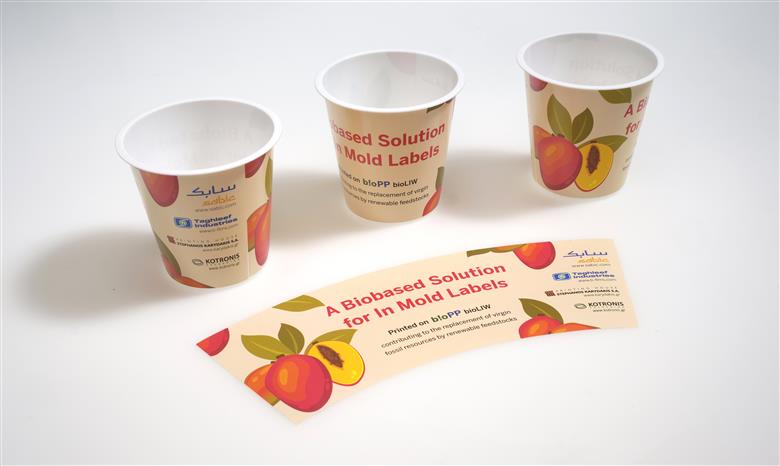 SABIC, a global leader in the chemical industry, has partnered with three specialists in the field of in-mold labeling (IML) to demonstrate the use of certified renewable polypropylene (PP) resins in high quality mono-PP thin-wall container packaging without compromising quality, processability, safety or convenience. The single-step IML technology achieves a seamless part decoration right in the injection mold, where the label becomes an integral component of the packaging itself. Dedicated label film types and high-definition printing technology result in a very attractive and cost-effective decorative solution. Besides using certified renewable PP resins for both the molded parts and the label film, the resulting packaging can be recycled in existing rigid PP recycling streams.
4 Sep 2023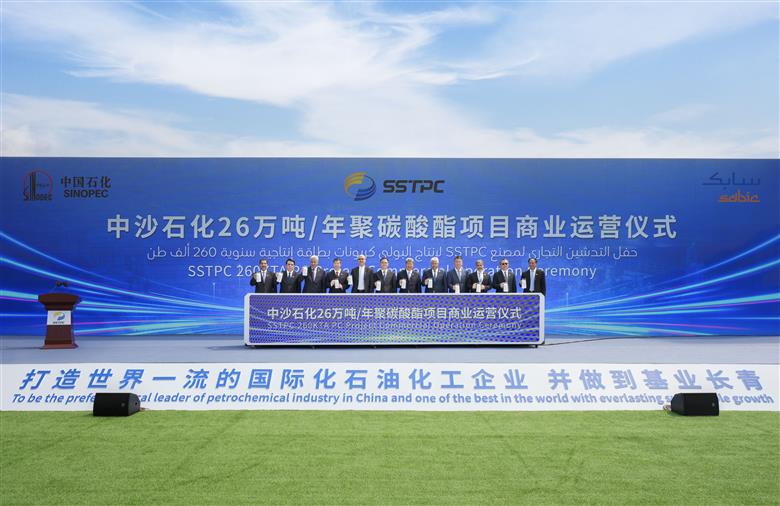 SABIC and SINOPEC announced the commercial operation of a new polycarbonate (PC) plant at their 50-50 joint venture (JV) – SINOPEC SABIC Tianjin Petrochemical Co. Ltd. (SSTPC). Khalid Hashim Al-Dabbagh, SABIC Chairman and Ma Yongsheng, SINOPEC Chairman attended the ceremony.
22 Aug 2023
SABIC, a global leader in the chemical industry, today announced that its STAMAX™ 30YH570 resin has earned the UL Verified Mark from Underwriters Laboratories. This 30 percent glass fiber-reinforced copolymer resin, a featured product offered under the company's BLUEHERO™ electrification initiative, is the first polymer used in electric vehicle (EV) battery systems to receive UL Verification for marketing claims of thermal and mechanical performance. UL Verification, based on an objective, scientific assessment by a respected third party, can give customers high confidence in the flame delay performance of this product.
17 Aug 2023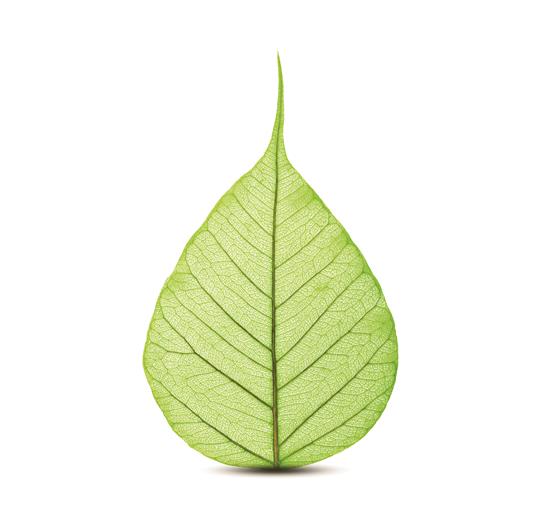 SABIC, a global leader in the chemical industry, is now offering bio-based versions of all NORYL™, Flexible NORYL, NORYL GTX™ and NORYL PPX™ resin grades to help customers meet increasingly rigorous sustainability goals. The bio-based versions, formulated with polyphenylene ether (PPE) resin feedstocks certified under International Sustainability & Carbon Certification (ISCC) PLUS, provide properties similar to those of fossil-based grades. Customers may select from multiple levels of bio-based content for their chosen NORYL product.
10 Aug 2023
SABIC, a global leader in the chemical industry, will reveal at PCIM Asia 2023, in Booth #2B10, new data showing significantly reduced internal dissipation losses in its high-heat ELCRES™ HTV150A dielectric films for potential use in high-temperature capacitors. Compared to other high-heat materials like polyethylene terephthalate (PET) and polyethylene naphthalate (PEN), ELCRES HTV150A films can reduce dissipation losses by as much as 40 percent when exposed to temperatures reaching 150°C and frequencies up to 100kHz. Lower dissipation losses in ELCRES HTV150A dielectric films can reduce internal heat generation, increase operating efficiency, and stabilize hot spot temperatures, giving engineers in Asia Pacific greater flexibility in designing capacitors. Lower losses in these films are expected to translate into reduced dissipation losses in capacitors.
31 Jul 2023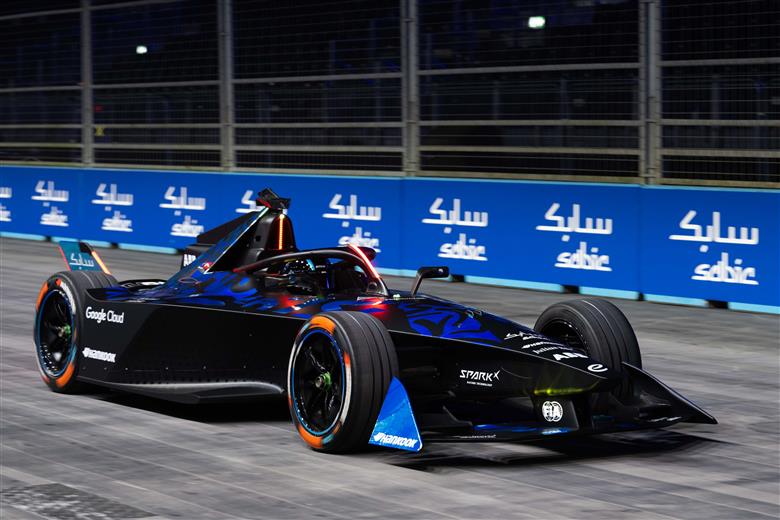 SABIC, a global leader in diversified chemicals, formally highlighted the use of its materials in applications on the GENBETA car, the new holder of the GUINNESS WORLD RECORDS™ title for the fastest speed achieved by a vehicle indoors.
20 Jul 2023
SABIC, a global leader in the chemicals industry, has launched a pilot project with Circularise, a blockchain software provider, to evaluate the use of their technology in tracing the carbon footprint of specific material streams from end to end.
19 Jul 2023
Aramco, TotalEnergies, and SABIC have for the first time in the Middle East and North Africa successfully converted oil derived from plastic waste into ISCC+ certified circular polymers. The plastic pyrolysis oil, also called plastic waste derived oil (PDO), was processed at the SATORP refinery jointly owned by Aramco and TotalEnergies, in Jubail, Saudi Arabia. It was then used as a feedstock by PETROKEMYA, a SABIC affiliate, to produce certified circular polymers.
13 Jul 2023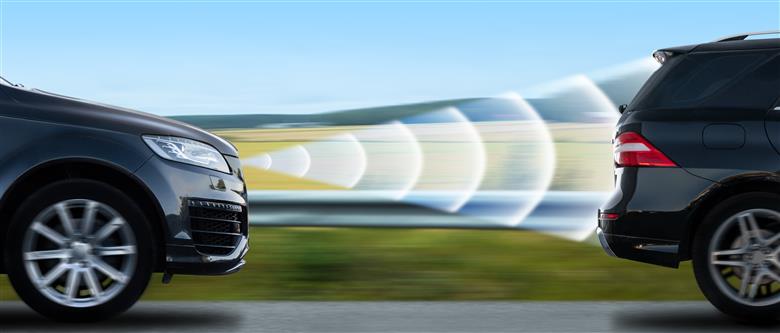 SABIC, a global leader in the chemical industry, today announced the expansion of its specialty materials portfolio for advanced driver assistance systems (ADAS) to further strengthen occupant and pedestrian safety. The company's two new LNP™ STAT-KON™ compounds are well suited for ADAS radar absorbers and can help propel adoption of millimeter wave (mmWave) radar, which significantly improves sensor accuracy and range. By providing robust and high-resolution information about remote objects, mmWave radar could enhance driving safety and support the trend toward the use of autonomous vehicles.
13 Jul 2023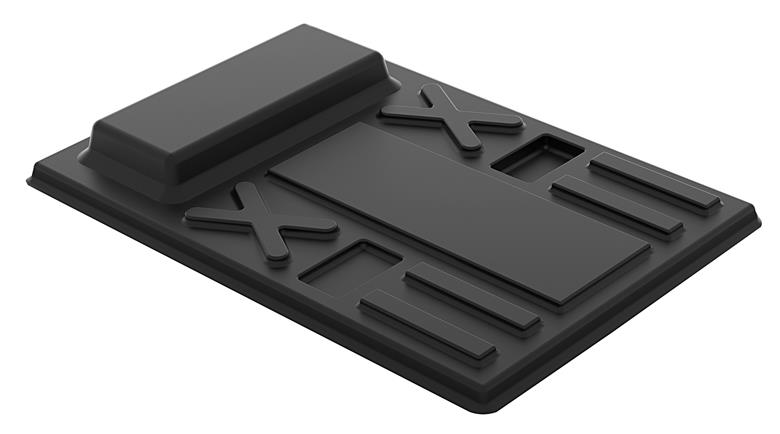 SABIC, a global leader in the chemical industry, today introduced SABIC® PP compound H1090 resin and STAMAX™ 30YH611 resin, two breakthrough materials well-suited for sheet extrusion and thermoforming that offer a unique alternative to traditional sheet metal forming, compression and injection molding, allowing customers to form large, complex structural parts.