SABIC
SABIC is a global diversified chemicals company, headquartered in Riyadh, Saudi Arabia. It manufactures on a global scale in the Americas, Europe, Middle East and Asia Pacific, making distinctly different kinds of products: chemicals, commodity and high performance plastics, agri-nutrients and metals.
SABIC supports its customers by identifying and developing opportunities in key end-use applications such as construction, medical devices, packaging, agri-nutrients, electrical and electronics, transportation and clean energy. Production in 2020 was 60.8 million metric tons.
The company has more than 32,000 employees worldwide and operates in around 50 countries. Fostering innovation and a spirit of ingenuity, SABIC has 9,946 global patent filings, and has significant research resources with innovation hubs in five key geographies – USA, Europe, Middle East, South Asia and North Asia.
SABIC
Europaboulevard 1
6135 LD Sittard
Netherlands
2 Dec 2021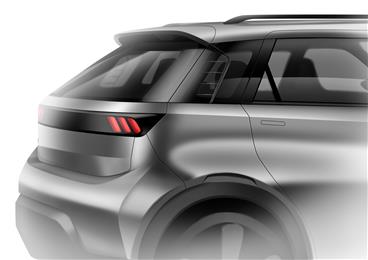 SABIC, a global leader in the chemical industry, today announced the results of a recent design study on automotive rear quarter windows that explored the distinct advantages of LEXAN™ polycarbonate (PC) resins for creating differentiated styling, consolidating components, integrating functions and enhancing aerodynamics. These concepts reveal multiple new opportunities to significantly expand design freedom, control costs and reduce weight by replacing traditional glass with transparent, impact-resistant LEXAN resins. The detailed study, conducted by SABIC designers and engineers, builds on the company's deep, decades-long history in automotive glazing technology. In addition to rear quarter windows, the SABIC team produced stylish design concepts for rear side windows. The data is available to support the feasibility of these designs, all of which can use well-established processing methods and secondary operations.
1 Dec 2021
To support broader adoption of electric vehicles (EVs), SABIC is launching two new grades of NORYL™ resin that support demand for lighter, thinner and more crash-resistant battery modules and housings. These new innovative materials – NORYL NHP6011 and NHP6012 resins – address key consumer requirements for EVs: improved safety, range and power. They deliver enhanced robust flame retardancy and impact strength to meet stringent industry-related safety standards, as well as thin-wall molding capability to reduce weight and accommodate more cells, helping to extend vehicle range and boost performance. These novel glass fiber-reinforced NORYL resins feature proprietary polyphenylene ether (PPE)-copolymer technology and are the latest additions to SABIC's growing NHP family of materials for mobility applications.
30 Nov 2021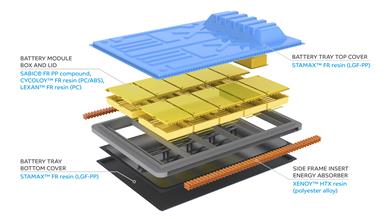 At this year's Battery Show Europe 2021 from November 30 to December 2 in Stuttgart, Germany, SABIC is calling attention to its dedicated and all-encompassing approach to 'Powering Excellence in Batteries and Energy Storage' – across industries from automotive and e-mobility to others who rely on stationary energy storage applications. At Booth 6-651, the company is demonstrating its commitment, expertise and broad portfolio of polymer and specialty technologies to help customers implement safer, more sustainable and economically scalable concepts for more efficient energy storage.
23 Nov 2021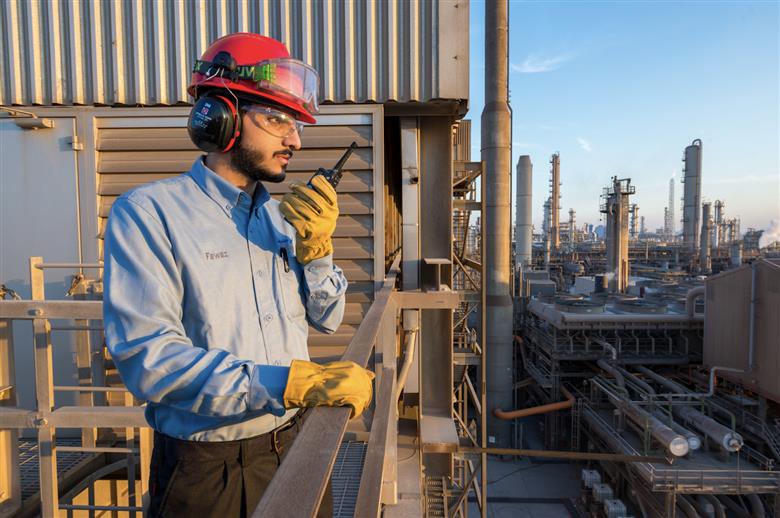 SABIC, a global leader in the chemical industry, launched today new LNP™ STAT-KON™ and LNP™ STAT-LOY™ compounds. The products offer enhanced anti-static performance for applications regulated under the European Union's increasingly stringent ATEX directive governing equipment used in explosive atmospheres. The new technologies can potentially replace less-effective metals and coated or filled polymers in electronics enclosures, automation equipment, equipment housings, lighting fixtures, safety gear and hand-held devices such as flashlights.
15 Nov 2021
SABIC, a global leader in the chemical industry, launched today at Automotive Tech Week 2021 LNP™ LUBRILOY™ N2000 compound, a new internally lubricated material that helps prevent buzz-squeak-rattle (BSR) noise in automotive interiors. Showcased here at the company's booth (#330), the new LNP compound is based on an amorphous blend and offers both molded-in color capability and paintability. The proprietary, compatibilized olefinic alloy is free of silicone and polytetrafluoroethylene (PTFE). By replacing standard PC/ABS with this innovative, drop-in material, automotive OEMs and tiers can significantly reduce friction and stick-slip behavior between molded parts to limit or prevent unwanted noise.
11 Nov 2021
SABIC, a global leader in the chemical industry, today announced that its recently launched NORYL™ AP2001G aromatic polyol can significantly improve the performance of hot cast polyurethanes (PUs) based on methylene diphenyl diisocyanate (MDI) and polytetramethylene ether glycol (PTMG). By boosting the hardness, toughness and stiffness properties of cast PU by double digits, NORYL AP2001G polyol can enable MDI formulations cured with 1,4-butanediol (BDO) to deliver equivalent or better performance compared to toluene diisocyanate (TDI) and PTMG PU formulations cured with MOCA (4,4'-methylene bis(ortho-chloroaniline)).
4 Nov 2021
SABIC, a global leader in the chemical industry, is introducing two new grades in its portfolio of Superflow ULTEM™ resins that address the trend of electronic component miniaturization to enable smaller, lighter and more-sophisticated devices. Glass fiber-reinforced Superflow ULTEM SF2250EPR and SF2270 resins feature exceptional flow properties for molding burn-in test sockets (BiTS) used to stress-test integrated circuit (IC) chips. They can also potentially be used to mold thin-wall, high-precision, miniaturized connectors. Their signature flow properties help meet the challenges of complete mold filling and easy release in ever-smaller components.
26 Oct 2021
SABIC, a global leader in the chemical industry, launched today a new portfolio of bio-based ULTEM™ resins that offer sustainability benefits while delivering exactly the same high performance and processability as incumbent ULTEM materials. These breakthrough polyetherimide (PEI) materials are the first certified renewable high-performance, amorphous polymers available in the industry. Using a mass balance approach, for every 100 kg of ULTEM resin produced, SABIC replaces 25.5 kg of fossil-based feedstocks with bio-based materials derived from waste or residue, such as crude tall oil from the wood industry. This advanced offering is a drop-in material option for current ULTEM materials and can support customers' sustainability goals for challenging applications in consumer electronics, aerospace, automotive, and other industries where high temperature, dimensional stability or demanding mechanical performance is required.
18 Oct 2021
SABIC, a global leader in the chemical industry, has announced that the newly formed Hygiene & Healthcare segment of its Petrochemicals business will showcase its extensive portfolio of SABIC PURECARES™ polypropylene (PP) and polyethylene (PE) polymers for high-purity nonwovens and hygiene films at the upcoming INDEX™ Expo in Geneva, Switzerland, from October 19 through 22, 2021. The company's exhibit at Booth #2441 will also feature enabling solutions developed with partners to address the issue of plastic waste and support the transformation of the industry towards a circular economy with closed-loop initiatives and certified circular polymers under its TRUCIRCLE™ portfolio and services.
7 Oct 2021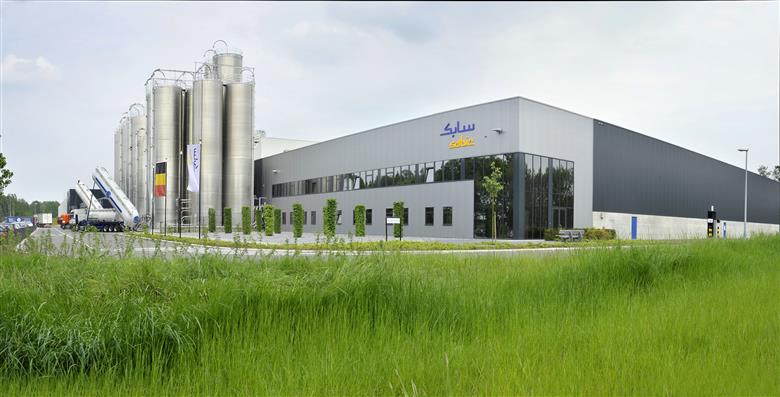 SABIC, a global leader in the chemical industry, has announced today the start-up of its new polypropylene (PP) compounding line in Genk, Belgium with a virtual inauguration event. The new line is an addition to the company's existing production capacity for SABIC® polypropylene compounds at the Genk site and will use raw materials from SABIC's PP plants at Gelsenkirchen, Germany, and Geleen, The Netherlands. It has been equipped with cutting-edge large-scale extrusion technology to meet the market's growing demand for high-quality, high-performance PP compounds with reliable and consistent supply.
22 Sep 2021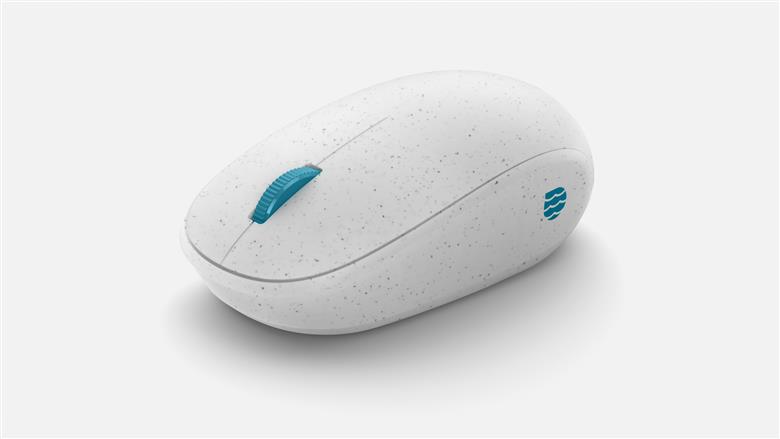 As part of a new effort to advance the use of recycled ocean plastic, SABIC, a global leader in the chemical industry, and Microsoft Corporation have collaborated to create Microsoft's first consumer electronic product – The Microsoft Ocean Plastic Mouse – with an exterior shell containing 20% recycled ocean plastic.
13 Sep 2021
SABIC, a global leader in the chemical industry, has introduced NORYL GTX™ 9500 resin, a new addition to a range of unfilled NORYL GTX resin grades, which delivers excellent dimensional stability under hot and humid conditions, addressing the challenge for highly demanding automotive applications.