Trespa
About Trespa® Meteon®
Based on decades of leadership and setting new trends in façade solution design and aesthetics, Trespa® Meteon® Lumen represents a logical next step for the Trespa® Meteon® family. Trespa is the first choice of exterior panelling for many leading architects, who insist on quality, reliability and durability.
Trespa® Meteon® is a decorative high-pressure compact laminate (HPL) with an integral surface manufactured using Trespa's unique in-house technology, Electron Beam Curing (EBC). The blend of up to 70% natural fibres and thermosetting resins, manufactured under high pressures and temperatures, yields a highly stable, dense panel with good strength-to-weight ratios. Trespa® Meteon® stands out in vertical exterior wall coverings such as facade cladding, balcony panelling and sunblinds.
The entire Trespa® Meteon® product range is available with PEFC™ or FSC™ certification upon request, in restricted quantities and certain jurisdictions.
Experience the effect for yourself
See what Trespa® Meteon® Lumen can do: order your samples today on new.trespa.com. For further details regarding our delivery programme, please visit trespa.info.
Trespa International b.v.
P.O. Box 110
6000 AC Weert
Netherlands
8 Mar 2016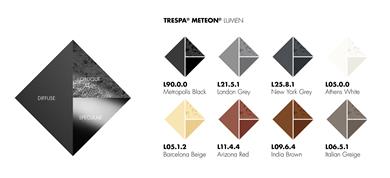 Trespa has announced the launch of its new Trespa® Meteon® Lumen range. This allows architects and designers to play with the composition of light reflection on your façade. By doing so, natural light can be creatively introduced as a design element. It can be reflected, scattered, enhanced or muted according to architects' and clients' wishes.
12 Oct 2015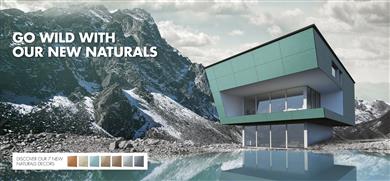 Trespa has announced a new range of panels with seven unique decors, allowing you to unleash your creativity in new ways. Now, any building can acquire instant character with decors inspired by natural materials and processes. Bring your façade to life with our new range with a unique, timeless natural texture.
11 Feb 2015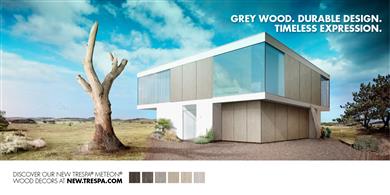 Weert, the Netherlands, February 2015 - Trespa today announced an extension to its popular Trespa® Meteon® range of durable exterior panels, with the addition of six distinctive grey wood tones. Said Lucas Stevens, Design Expert at Trespa: "this is a direct result of consultation with more than 100 architects in 10 countries. The new grey wood decors combine durable design with the timeless expression that architects strive to deliver in their work for their clients."
15 Nov 2012
WEERT, NETHERLANDS - More innovative, natural looking facades add new dimensions to architectural design.
6 Jun 2012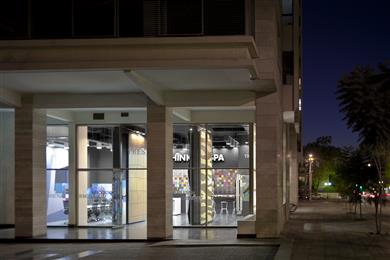 The world-leading architectural materials company Trespa has announced the grand opening of their Trespa Design Centre in Santiago, Chile's Providencia district, opening to a VIP preview and inaugural reception. According to the company, the new Trespa Design Centre Santiago will serve as an inspirational space where architects, designers and building owners can meet for design education, project solutions, inspirational events and unique exhibits.
14 Nov 2011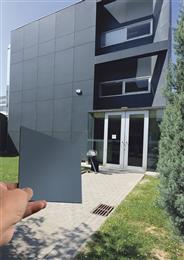 In today's architecture, longevity is a key consideration. Any building that remains looking good will continue to command attention. In addition to aesthetic considerations, there are cost implications too: a reduced need for maintenance brings additional savings in labour costs and cleaning materials.
6 May 2011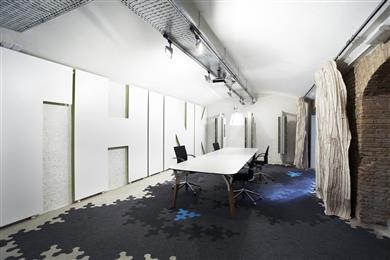 In May 2011, Trespa International will be opening a new Trespa Design Centre in Barcelona. The Trespa Design Centre, which will showcase design solutions by Trespa International and its sister-company Arpa Industriale, is set to offer a unique experience. It will not only be a showcase for exterior and interior design concepts, but also a unique and inspirational location for meeting, learning and networking with architects throughout Barcelona, Catalonia, Spain and Europe.
14 Dec 2010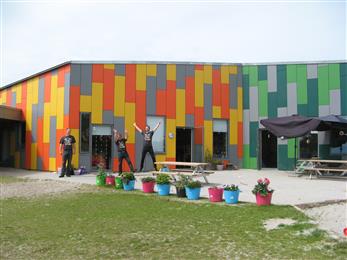 As the leading producer of innovative and inspirational façade solutions, Trespa International B.V. marked its 50th anniversary with an international competition for its global distribution channel. Dealers and distributors were invited to complete the slogan "When I think of Trespa, I think of…". Subsequently, they were sent wearing specially designed "Think Trespa" T-shirts and invited to take photographs of staff visiting their favourite Trespa Meteon application(s), highlighting the material's nearly limitless design possibilities.
9 Dec 2010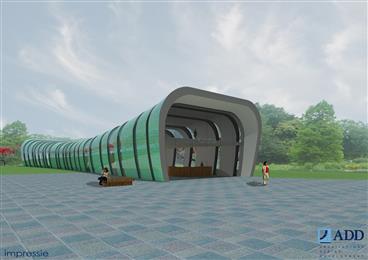 As the leading producer of innovative and inspirational façade solutions, Trespa International B.V. marked its 50th anniversary with an international competition for Architects. With a long and distinguished history, Trespa Meteon panels are the material of choice for the creation of some of the world's most outstanding façades. However, rather than look back, Architects were invited to step 50 years into the future – and design a façade, using state-of-the-art Trespa technology.
23 Nov 2010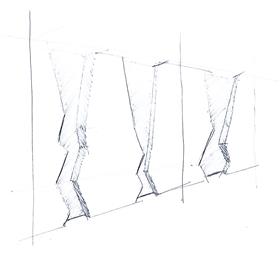 Throughout 2011, Trespa International, recognized as a leading innovator in the field of architectural materials, will be introducing a number of new design concepts. Under the headline "Surround yourself with inspiration", these concepts will demonstrate Trespa's continued drive to inspire architects as well as its ability to translate extraordinary ideas into durable and fascinating highlights in the urban landscape.
15 Sep 2010
Trespa International B.V. es una empresa líder en la fabricación de materiales innovadores para el mercado de la construcción, reconocida internacionalmente como el primer productor de placas laminadas de alta presión (HPL) y sistemas para el cerramiento de edificios. Fundada en 1960 y con sede principal en Holanda, Trespa fabrica para el mercado mundial placas arquitectónicas de alto rendimiento Trespa Meteon. Trespa se enfoca en el desarrollo de nuevos productos, combinando las mejores tecnologías de fabricación con soluciones inteligentes para su aplicación en el mundo arquitectónico. Nuestra organización de ventas en todo el mundo cuenta con el apoyo de una red de agentes y distribuidores locales que nos permite tener un buen conocimiento de las necesidades particulares de nuestros clientes.
11 Jun 2010
Trespa International B.V., with head office in Weert, The Netherlands, has been manufacturing high quality panels for exterior cladding, interior surfaces and other applications since 1960. This year, Trespa celebrates its 50th anniversary. Over the years, Trespa has become the leading producer of innovative and inspirational façade solutions. To mark the occasion, Trespa International has launched a competition for Architects.