23 Jun 2009
Rapid Granulator launches RG-Series of screenless granulators in the US market
Chicago (IL), June 23, 2009 – Today at NPE, Rapid Granulator unveiled its next generation RG-Series screenless granulators with Integral Metal Detection (IMD) for the US market. The RG-Series is a family of eight basic models ranging from the very small RG-1, dedicated to grinding the smallest sprues and rejects, to the RG-4 Twin, capable of granulating very large injection moldings such as dashboards and bumpers. Of key importance to processors is that integral to these next generation granulators is the latest technology to protect them from damage and ensure operator safety, enhanced capacity and simplified maintenance.
Specifically designed for beside-the-press grinding of hard and brittle materials, the RG-Series slow speed, screenless granulators feature Rapid's patented IMD technology. IMD virtually eliminates the risk of damage to the machine from metal fragments that may have entered the regrind chain undetected. Additionally it minimizes the possibility of these small metal fragments passing through the machine to damage downstream equipment such as injection feeder screws or even molding tools.
Also incorporated in the new series is a reversible motor function (REV), which prevents blockages in the cutter house and aids the granulation of thicker-walled or tougher plastics such as those heavily reinforced with glass fiber. This innovative technology enables the machine to determine if resistance to the cutting blade is too high. When this is the case, it reverses the rotor and repositions the part to allow cutting from a different angle.
Additional complementary technical advances include the granulators being equipped with 'soft coupling' to absorb stresses and vibration during operation. This helps reduce wear and prevents damage to the gear box and motor, as well as contributing to noise dampening.
"The innovations packed into the RG-Series is what customers expect from a market leader," says Kirk J. Winstead, President, Rapid Granulator Inc. "We work closely with customers to ensure that our granulators evolve in line with their needs. When possible we try to anticipate how those needs will change in the future in order to keep our research and development work on-track and keep our customers ahead of the curve."
This is reflected in the new RG-Series granulator family which provides a solution tailored to the specific needs of tough-material regrinding to make the processors' job easier, more productive and more profitable.
At NPE, Rapid Granulator can be found on Booth S42014 (South Hall)
Reader enquiries
Rapid Granulator AB
P.O. Box 9
33302 BREDARYD
Sweden
+46 370 86 500
www.rapidgranulator.com/startpage
---
Notes for editors

About Rapid Granulator AB
Rapid Granulator, headquartered in Bredaryd, Sweden, employs 265 people and exports around 95 percent of its production. Supporting its sales operations and customer base the company has seven subsidiaries located in Cranberry Township (PA), USA; Shanghai, China; Singapore; Venice, Italy; Lyon, France; Kleinostheim, Germany and Beirut, Lebanon. Further support is provided by a global network of over 90 agents and local partners. More than 70,000 machines installed across five continents, for the granulation of plastic scrap, the recycling of post-consumer and post-industrial waste, the reduction of organic waste for the production of bio-gas, as well as the shredding of old bank notes, confirm the company as a world-class leader in its field.
For more detailed information, visit Rapid at: www.rapidgranulator.com.
Related images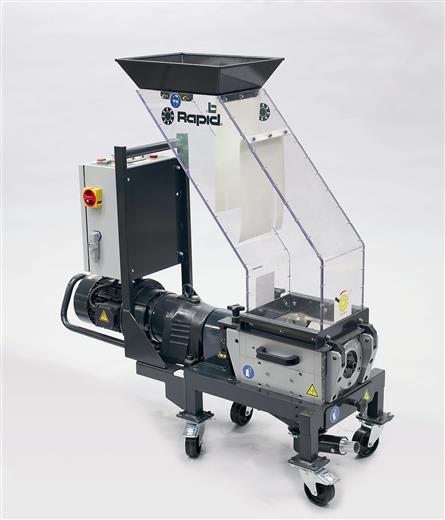 Also available in