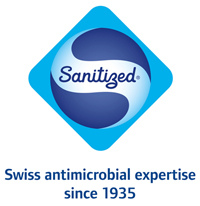 27 Jun 2018
A new company is formed: SANITIZED Preservation AG:
Expansion of global expertise in dry film and in-can preservation and antimicrobial coatings
Support in product protection, regulatory issues and marketing
Burgdorf/CH, 27 June 2018: SANITIZED AG is pooling together its longstanding expertise in the area of antimicrobials for paints and coatings into a single company, the newly founded SANITIZED Preservation AG. David Tierney, previously Global Business Director, Coatings at Lonza AG, will be taking over the management of the entity as well as the expansion of global business relations.
Antimicrobial protection for paints and coatings – during production, storage and when in use – in accordance with the current regulatory provisions: This is exactly what the newly founded SANITIZED Preservation AG is focusing its efforts on. In-can and dry film preservation for paints will be offered for the first time, along with hygiene audits for production plants, in order to provide all-round support for hygiene issues in the factory.
From the raw material to the final application
Paints and coatings protected with Sanitized® antimicrobial treatment prevent bacteria from colonizing and mildew from forming. The portfolio also includes specific protection objectives: for example, use in the medical sector or use outdoors under particular climatic conditions. Officials working in public areas, such as schools, airports, train stations and, especially those in hospitals and care facilities are seeing a growing need for hygiene provisions.
The customers benefit from the comprehensive technical know-how in product development, the monitoring of the production process in addition to the microbiological quality assurance that is being implemented at the Swiss headquarters and by global partners. SANITIZED specialists offer further support with regulatory issues and share their up to date knowledge about any changes as well as anomalies that relate to a specific country.
The Swiss quality brand Sanitized provides effective marketing support. Manufacturers of paints and coatings can show that their products offer antimicrobial protection by labeling them with the Sanitized Ingredient Brand, thereby making their competitive advantage clearly visible in all their marketing activities. Numerous companies in the global polymer and textile industry are already successfully using this service.
David Tierney, previously Global Business Director Coatings at Lonza AG, is now CEO for SANITIZED Preservation AG. "With over 30 years of experience in all areas of the international antimicrobial industry and his in-depth knowledge of the sector, he is the ideal choice for managing the newly founded SANITIZED Preservation AG", commented Urs Stalder, CEO of SANITIZED AG.
Reader enquiries
SANITIZED AG
Lyssachstrasse 95
CH-3401 Burgdorf
Switzerland
+41 34 427 16 16
info@​sanitized.com
www.sanitized.com
sanitized-ag
---
Notes for editors
Swiss antimicrobial expertise since 1935.
SANITIZED AG is the leading worldwide producer of antimicrobial hygiene function and material protection for textiles and plastics. For over 80 years, the company has been undertaking pioneering work in this field and has become an established specialist in comprehensive hygiene concepts. In addition to effective products, the range of services also includes advice on marketing and technical issues, diverse testing services, as well as a well-founded brand and license concept. SANITIZED AG only uses scientifically researched antimicrobial active ingredients that have undergone strictest risk assessments for people and the environment in internationally recognized procedures. More information on: www.sanitized.com.