23 Jul 2019
SABIC heads to Japan in July for next global LNP™ anniversary technical summit
TOKYO, JAPAN, July 23, 2019 - A series of global technical summits being held by SABIC to mark 70 years of its LNP™ product line of engineering thermoplastic compounds and resins continues later this month, in Japan. SABIC has invited engineers and designers at ODMs and OEMs, molders and toolmakers from around the country to the World Trade Center, Tokyo, on July 23, for a series of presentations tuned to key aspects of the Japanese market, delegates will also have the opportunity to look at application-related displays, and have one-on-one meetings with company experts.
"The LNP™ product line was introduced in 1948, and we continue to provide innovative solutions to our partners riding the new trends," says Joshua Chiaw, Global Business Director, LNP, SABIC. "We are dedicated to working with customers to tackle the technical challenges they face across many markets. We have numerous customers in Japan working on the cutting edge of technologies in electronics, automotive, healthcare and other important areas. Japan has been a hotbed of innovation for decades, and we are proud to be able to help that trend continue.
"SABIC has production facilities and a dedicated team of technical, sales, and marketing experts in the country. The Tokyo summit will be a way of getting even closer to our customers and informing them in-person of our most recent developments and innovations in high-performance compounds and resins."
One such innovation is LNP™ ELCRIN™ iQ products, developed to help reduce plastic waste and help support the circular economy. Unveiled in May, the first series of LNP™ ELCRIN™ iQ products is a portfolio of polybutylene terephthalate (PBT) compounded resins derived from chemically recycled post-consumer polyethylene terephthalate (rPET), mostly single-use bottles.
"With LNP™ ELCRIN™ iQ products, we are actually creating materials that have higher value than the original," Chiaw says. "These new compounds have enhanced properties that may be used in more durable, long-life applications. They also offer a smaller cradle-to-gate environmental footprint in comparison to standard PBT resin." SABIC is offering LNP™ ELCRIN™ iQ products in various versions, including glass- and mineral-reinforced grades and non-halogenated FR and UV-resistant formulations.
Since late last year, SABIC has held technical summits across China, Malaysia, and Singapore and a series of events kicked off in Europe and the USA also. SABIC is already scheduling events in India (September), and Korea (October).
"Everywhere we go with these summits, we are finding that top decision makers are keen to get the latest news of what we are developing and how we can collaborate with them in their projects," says Martin Tam, Director, Customer Fulfillment, APC, Specialties, SABIC. "We have already met with hundreds of people from processors, end-users and design houses. We received significant positive feedback from our customers as we offered potential solutions to help them address their challenges such as Industry 4.0, 5G communications, the internet of things, environmental issues, and beyond." 
Reader enquiries
SABIC
Europaboulevard 1
6135 LD Sittard
Netherlands
+86 21 2037 8436
yvonne.yan@​sabic.com
www.sabic.com
---
Notes for editors
SABIC and brands marked with ™ are trademarks of SABIC or its subsidiaries or affiliates.
SABIC should be written in every instance in all uppercase.
ABOUT SABIC
SABIC is a global leader in diversified chemicals headquartered in Riyadh, Saudi Arabia. We manufacture on a global scale in the Americas, Europe, Middle East and Asia Pacific, making distinctly different kinds of products: chemicals, commodity and high performance plastics, agri-nutrients and metals.
We support our customers by identifying and developing opportunities in key end markets such as construction, medical devices, packaging, agri-nutrients, electrical and electronics, transportation and clean energy.
SABIC recorded a net profit of US$ 5.7 billion in 2018. Sales revenues for 2018 totaled US$ 45 billion while total assets stood at US$ 85 billion. Production in 2018 was 75.3 million metric tons.
SABIC has more than 33,000 employees worldwide and operates in around 50 countries. Fostering innovation and a spirit of ingenuity, we have 11,738 global patent filings, and have significant research resources with innovation hubs in five key geographies – USA, Europe, Middle East, South Asia and North Asia.
Related images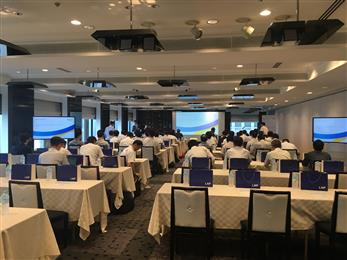 Also available in