23 Jun 2009
Next big step for Rapid's open-hearted granulator technology
Chicago (IL), June 23, 2009 - The biggest ever open-hearted granulator, the new 600-Series from Rapid Granulator, was launched today to the American market at NPE 2009. The 600 Series are the largest of Rapid's open-hearted range of easy access granulators. These allow cleaning and maintenance time to be reduced by up to 50%, without compromising safety or regrind quality.
According to Kirk J. Winstead, President, Rapid Granulator Inc.: "The 600-Series uses the same patented technology that has already proven to be highly successful in Rapid's 300, 400 and 500-Series. The concept is completely modular and can be tailored to any application within the plastics processing and recycling industry."
"Open-hearted describes the machine's ergonomic design that, during a production change for example, allows the operator to gain complete access to the rotor and cutter at the heart of the machine in just three steps and without the aid of any tools. This provides for a very rapid 'visibly clean' confirmation, eliminating the risk of granulate contamination after color or material changes. The same quick access benefits maintenance work as well. In both cases it significantly reduces machine downtime and improves productivity," says Winstead.
"And when you think that apart from initial investment, cleaning and maintenance represent the biggest cost factor over a granulators lifecycle," he adds, "any time savings that can safely be made enhances the processors bottom line. The 600-Series can make that saving possible."
Centrally located or beside-the-press, the 600-Series is designed for the high volume granulation of injection molded, blow molded or extruded plastic parts and waste, and can handle throughput up to 5,000 lbs / 2,500 kg per hour The series, which has a rotor diameter of 24" / 600mm, is available in 36" / 900 mm, 48" / 1,200 mm and even 60" / 1 500 mm widths. In addition, to give even greater flexibility, the machines can be equipped with Rapid's Super Tangential Cutter House to allow the granulation of parts bigger than the rotor diameter.
Operation of the open hearted 600-Series is based on the well-established Rapid cutting technique, comprising clean, double-scissor cutting action and a constant cutting circle, to produce uniform-size granules with minimal dust. Moreover, this cutting action reduces the force needed to slice through the plastics waste and therefore gives the added benefit of reduced energy consumption.
At NPE, Rapid Granulator can be found on Booth S42014 (South Hall)
Reader enquiries
Rapid Granulator AB
P.O. Box 9
33302 BREDARYD
Sweden
+46 370 86 500
www.rapidgranulator.com/startpage
---
Notes for editors

About Rapid Granulator AB
Rapid Granulator, headquartered in Bredaryd, Sweden, employs 265 people and exports around 95 percent of its production. Supporting its sales operations and customer base the company has seven subsidiaries located in Cranberry Township (PA), USA; Shanghai, China; Singapore; Venice, Italy; Lyon, France; Kleinostheim, Germany and Beirut, Lebanon. Further support is provided by a global network of over 90 agents and local partners. More than 70,000 machines installed across five continents, for the granulation of plastic scrap, the recycling of post-consumer and post-industrial waste, the reduction of organic waste for the production of bio-gas, as well as the shredding of old bank notes, confirm the company as a world-class leader in its field.
For more detailed information, visit Rapid at: www.rapidgranulator.com.
Related images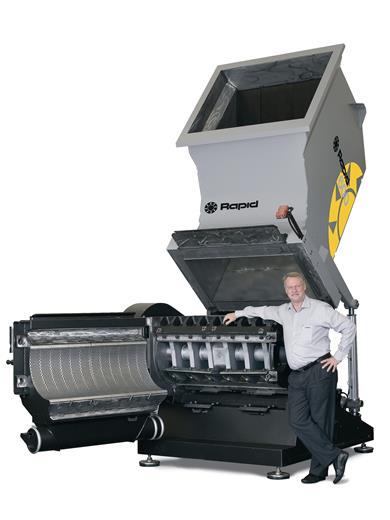 Also available in