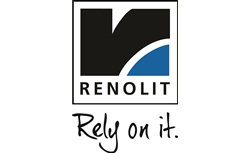 19 Feb 2019
RENOLIT Taking Off in Automotive Interior Applications
RENOLIT TECNOGOR, 100% recyclable, glass fiber reinforced polypropylene based composite material gains a leading position in the automotive interiors market with major OEM end customers.
Buriasco, 19 February 2019 – RENOLIT GOR S.p.A., with a leading position in the automotive extrusion and thermoforming market globally, has seen demand for its innovative RENOLIT TECNOGOR take off as the next generation, safe, clean, 100% recyclable glass fiber composite for automotive interior applications. Tier 1 thermoformers have been able to combine superior part performance with consistent quality, higher productivity and lower costs of the production process, which has attracted the attention of many OEM automotive buyers. Leading German, Italian, French and Japanese carmakers are now using RENOLIT TECNOGOR for a variety of thermoformed, custom coated, interior 3D trim parts for vehicles. Applications include: parcel shelves, load floors, seat back covers, dashboard inserts and trunk trims.
RENOLIT TECNOGOR has proved itself to be a versatile, high quality, superior performance, lightweight thermoplastic composite sheet and roll material solution, which enables automotive trim parts to be cost effectively fabricated for a wide choice of interior finishes. A key benefit for thermoformers using this PP/GF based substrate is that it can be shaped in a 'glue free' one-step-process. It is also a very safe material to use on the shop floor compared with a glass fiber reinforcement fabric. This is due to the glass fibers in RENOLIT TECNOGOR being completely embedded in the PP polymer matrix during extrusion. As a result, there are no free floating fibers in the air or exposed glass fibers in the molding, producing safe to handle finished trim parts with smooth surfaces and edges. To reduce cut-off trim, custom sized RENOLIT TECNOGOR blanks are typically provided, which are supplied as standard with a highly compatible film for thermally bonding textiles or other skin materials.
Automotive interior design engineers are able to take advantage of the outstanding mechanical properties of RENOLIT TECNOGOR, which according to a published technical data sheet for the Type A grade, include:
Flexural Modulus (Norm I.S.O. 178) of L. ≥ 8200 N/mm2 , T. ≥ 3200 N/mm2 ;
Charpy Impact Strength (Norm I.S.O. 179) of L. ≥ 17 KJ/m², T. ≥ 15 KJ/m² ;
Heat Deflection Temperature, HDT (Norm I.S.O. 75A) of L. ≥ 145 °C, T. ≥ 120 °C.
The superior stiffness and impact performance in use of RENOLIT TECNOGOR is thanks to the unique, patented, PP/GF composition and extrusion process used by the RENOLIT COMPOSITES production lines in Italy.
Customers benefit from the added value technical support and process knowhow provided by the RENOLIT COMPOSITES team. Francesco Maffione, Sales Manager – Automotive Products for RENOLIT explains: "Our approach is to work closely with Tier 1 convertors and automotive OEMs, using our extensive knowledge and network to help customers to produce thermoformed parts at lower cost and higher productivity levels. We look for ways to achieve higher machine utilization, to eliminate process steps, reduce changeovers and shorten production cycle times". Maffione went on to say: "We also get involved in new product development projects, providing rapid technical support, which includes supplying test material produced on our in-house prototyping thermoforming line."
The product range for RENOLIT TECNOGOR is available in sheet thickness options from 0,8 – 2,3mm, width options up to 1800mm (max.) and lengths from 0,4 - 4 m. Custom rolls are supplied in thicknesses from 0,8 -1,3mm, with maximum roll lengths dependant on thickness and width required. Standard range colors are black or grey, with other colors available on request.
For more information visit www.renolit-tecnogor.com
Reader enquiries
RENOLIT COMPOSITES
RENOLIT GOR S.P.A.
Via Pinerolo 7
10060 Buriasco (to)
Italy
+39 0121 56 9111
composites@​renolit.com
www.renolit-tecnogor.com
@RENOLITGroup
RENOLITgroup
RENOLITGroup
---
Notes for editors
The RENOLIT Group is a globally-active specialist for high-quality plastic films, sheets and other plastic products. With more than thirty locations in over twenty countries, and with annual sales of EUR 1.016 billion in fiscal year 2017, the company with headquarters in Worms – nearly fifty km northwest of Heidelberg – is one of the world's leading plastics product manufacturers. Over 4,700 employees continue to further develop the knowledge and expertise gained from over seventy years of business.