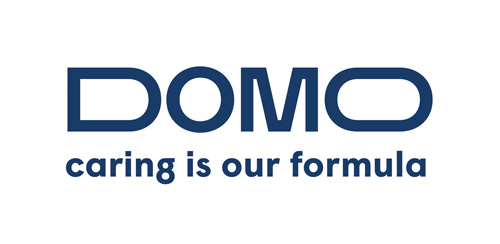 16 Jan 2020
DOMO Chemicals showcases its innovative solutions at Plastivision 2020
Ghent, January 16, 2020 - DOMO Chemicals, a leading engineering materials company and a highly integrated solution provider, is already well established in Europe and is growing fast in the US and Asia. At Plastivision 2020 (Mumbai, January 16-20), DOMO will showcase its innovative solutions in Hall 4 (Booth No. G1-3), including the new DOMAMID® and THERMEC™ ranges.
DOMO offers its global customers a full range of technical polymers that are primarily based on PA6, PA66, PPA and PPS. The company serves the Indian sub-continent with sustainable polyamides and specialties. At Plastivision 2020, the company will highlight the ECONAMID® branded sustainable polyamide range and the latest additions to the DOMAMID and THERMEC lines.
"Improved friction and wear resistance are growing demands within the automotive and chemical-process industries, where polymer composites are being developed to replace metal. This segment is mainly solutions-driven, involving integrated application design along with dedicated polymer materials and selected additives, fillers and reinforcements," says Tushar Parida, Country Manager India at DOMO Engineering Plastics.
He stresses the importance of having an innovative well-equipped Technical Centre where the tribological performances of composites can be tested at various loads, speeds and temperatures with different solvents.
"At the Technical Centre, our R&D engineers work passionately with a customer-centric approach. Data on multiple solutions is being compared there to allow us to select the best solution for each given application," he adds.
Another new addition to the portfolio at Plastivision 2020 is the DOMAMID IM range, which has been specifically designed for cable sheathing. With these products DOMO is offering a very cost-effective solution to replace expensive PA12, which is the most commonly used material in this end market.
New solutions have also been developed for applications like LED covers, cooling circuit parts, electrical engines, car battery housing, and heat dissipation. This is to protect electronic equipment in interior, exterior and under-the-bonnet automotive parts, where thermal and electrical conductivity are key aspects. DOMO has developed a complete range of thermally and electrically conductive grades based on polyamide 6, 66 and PPS. A sustainable alternative based on secondary raw materials that combines excellent mechanical properties and electrical conductivity but also a significantly reduced production environmental impact, is also available and sold under the ECONAMID AIR brand name.
Last, but no less important, new developments presented at the Plastivision fall under the Speciality Engineering Plastics banner, where thermal resistance is coupled with enhanced mechanical, chemical and flame retardant properties. This makes them the materials of choice for highly demanding engineering applications. High temperature thermoplastics have a Tg & Tm >150°C and thereby enable continuous use temperatures of 150-300°C. At its Indian Technical Centre, DOMO is working on the development of solutions based on these materials under the THERMEC brand.
Reader enquiries
DOMO Chemicals
Am Haupttor, Bau 3101
06237 Leuna
Germany
www.domochemicals.com
domo
---
Notes for editors
About DOMO Chemicals
DOMO Chemicals is a leading producer of high-quality engineering materials for a diverse range of markets, including the automotive, food, medical, pharmaceutical, chemicals and electronics industries. The company offers a complete portfolio of integrated nylon 6 products, including intermediates, resins, engineering plastics and packaging film and distribution of petrochemical products. Headquartered in Belgium, the family-owned company leverages advanced technology and consumer insights to deliver sustainable & innovative solutions. DOMO generated 2018 sales over EUR 900 million and employs approximately 1100 employees worldwide.