6 Aug 2018
Australian technology showcased for first time at Cenex-LCV as Tritium presents its new High Power Charging solution
On show: Tritium's unique High Power Charging (HPC) system
On show: Tritium's award-winning Veefil-RT 50 kW DC rapid charger, which in just four years has been installed on major rapid-charging networks and single sites in 24 countries on all major continents.
Find Tritium at Cenex-LCV 12-13 September 2018 - Stand No C3-118
Amsterdam, the Netherlands 6 August 2018: Tritium, a leading specialist in DC charging infrastructure solutions for electric vehicles (EV), will be exhibiting at Cenex-LCV to showcase its unique HPC system, a scalable, flexible system for commercial operators, capable of charging an electric vehicle up to 475kW.
In June 2018, IONITY*, the pan-European HPC network, chose Tritium to supply its 350kW HPC systems at 100 of its sites, taking advantage of the company's unique technology and the considerable benefits and cost savings it provides for network owners.
In addition, Tritium will be showing its award-winning Veefil-RT 50kW DC rapid charger that has made a major impact on the European market since its launch in 2014. The success of the Veefil-RT as a rapid charger for both single sites and major charging corridors, has enabled Tritium to take around 50% of the Norwegian market and around 15% of the wider European market for 50kW rapid chargers. It is also becoming a prominent player in the UK, where Tritium is estimated to hold 20% market share of the CCS/CHAdeMO 50kW rapid charger sector.
Tritium offers EV rapid-charging solutions for automotive OEMs, fleet operators, utilities, charge point network operators (CPOs), retailers and fuel companies.
"Tritium's strategy is to be at the forefront of development in this fast-growing sector – first to market where there are new opportunities," explains Jeroen Jonker, General Manager – Sales, Europe at Tritium.
"With the announcement of the Road to Zero strategy, the UK is becoming increasingly important as one of our major markets, and we are in active discussion with several organisations in the automotive, utilities and fleet sectors about the deployments of both rapid chargers and high power chargers."
Due to the increasing demand for its technology solutions, Tritium opened a US facility in California in 2017 and a European location with sales, service, assembly and 'in confidence testing' facilities, in Amsterdam in March 2018. Its global HQ and major manufacturing facility is located in Brisbane, Australia.
*IONITY, a joint venture of BMW Group, Daimler AG, Ford Motor Company and the Volkswagen Group with Audi and Porsche, is currently rolling out 350kW HPCs in 400 sites across Europe, including installation of Tritium HPCs on fuel service forecourts in the UK.
Reader enquiries
Tritium
Luchtvaartstraat 3B-C
1059 CA Amsterdam
Netherlands
---
Notes for editors
About Tritium
Brisbane-based Tritium is a technology company that specialises in the design and manufacture of DC fast chargers for electric vehicles (EV), power-electronic systems and battery energy-storage applications. Established in 2001, it has gained a reputation with the world's largest organisations and top universities for providing solutions when quality, reliability and performance are critical for success. Its products are operational on every continent around the world and are to be found in submarines, UAVs flying at over 40,000ft and even working in the extremes of Antarctica. Tritium's headquarters are in Brisbane in Australia, with offices in Europe and the United States.
Related images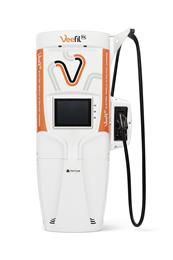 Editorial enquiries
Melanie Dooley
Tritium
Lesley Daley
Tritium
Josina van der Velden
EMG