18 Jun 2018
SOLISTRAND terminals and splices from TE Connectivity: performance that is measured in decades
DARMSTADT, Germany – June 18, 2018 – TE Connectivity (TE), a world leader in connectivity and sensors and a pioneer in wire crimping solutions, offers the industry's broadest range of crimping tools and terminals. An important family in that range, SOLISTRAND solderless terminals and splices, has played a pivotal role in powering technological innovation for over 70 years.
One of the reasons for the success of SOLISTRAND has been its extreme fitness for purpose: recent Millivolt drop tests at TE to simulate long-term electrical performance have demonstrated that these products can have working lives that stretch beyond 40 years.
SOLISTRAND was originally developed in the 1940s, when industrial manufacturers needed terminals strong enough to crimp to wires that powered turbines, aircraft control systems, and other heavy machinery during the war effort. In the modern era, SOLISTRAND plays a crucial role in some of the most technologically advanced applications of the 21st century – powering the next generation of interconnected appliances, power supplies, motors, switchgear, and telecommunications equipment.
"As industrial equipment becomes increasingly interconnected, the next generation of IIoT (Industrial Internet of Things) technology demands components that last longer and perform even in the harshest environments," says Callum Luff, Product Manager. "We go to great lengths testing our product, so our customers know SOLISTRAND will not let them down when it matters most. The Millivolt tests that we have just performed are just the latest confirmation of the quality of this important product family."
SOLISTRAND is engineered to ensure reliable and long-lasting performance in the most punishing environments. SOLISTRAND is corrosion resistant, vibration resistant, and has a tensile strength that easily meets commercial and military specifications. The terminals and splices resist temperatures of up to 170 degrees Celsius, and operate at high voltages – up to the voltage rating of the applied wire.
TE Connectivity developed the "W" crimp specifically for SOLISTRAND to provide excellent electrical performance and high tensile strength when crimped with TE tooling. This unique crimp permits the use of a shorter barrel, saving valuable space for terminations in tight areas.
SOLISTRAND is available in ring, flag, spade, hook, and flanged tongue terminals, as well as parallel and butt splices, in wire sizes from 26 AWG (0.129 mm2) to 600 MCM.
SOLISTRAND, TE, TE Connectivity and the TE connectivity logo are trademarks of the TE Connectivity Ltd. family of companies.
Reader enquiries
TE Connectivity
Pfnorstrasse 1
64293 Darmstadt
Germany
---
Notes for editors
ABOUT TE CONNECTIVITY
TE Connectivity Ltd. is a $13 billion global technology and manufacturing leader creating a safer, sustainable, productive, and connected future. For more than 75 years, our connectivity and sensor solutions, proven in the harshest environments, have enabled advancements in transportation, industrial applications, medical technology, energy, data communications, and the home. With 78,000 employees, including more than 7,000 engineers, working alongside customers in nearly 150 countries, TE ensures that EVERY CONNECTION COUNTS. Learn more at www.te.com and on LinkedIn, Facebook, WeChat and Twitter.
Related images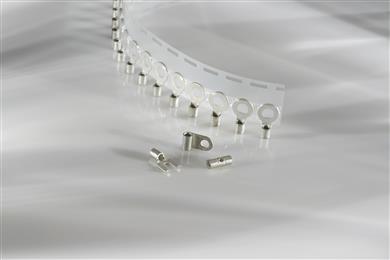 Editorial enquiries
Jonathan Graham
TE Connectivity
Nancy van Heesewijk
EMG
Also available in