23 Oct 2019
SABIC technical Summit in Seoul to celebrate 70-year anniversary of LNP™ product line
SEOUL, KOREA, October 23, 2019 - SABIC's latest technical summit on its LNP™ product line of engineering thermoplastic compounds and copolymers concluded successfully this week in Seoul, Korea. Around 100 top decision makers in engineering, design at OEMs, ODMs, tiers and processors joined the event on Tuesday October 15 at the Intercontinental Grand Seoul Parnas. The summit was one of a series of global events that began late last year to mark 70 years of the LNP™ product line.
"This was our 16th in our on-going series of technical summits, which we have been holding across Asia, the Americas, and Europe," said Joshua Chiaw, Director, Business Management, LNP, SABIC. "Each one has been tailored to address the challenges and opportunities faced in each market. We are happy to have received such positive feedback from the audience of our Seoul summit where we put the emphasis on mobility and e-mobility, electronics, and healthcare."
SABIC has a strong presence in engineering thermoplastics in Korea, with a technology center in Seongnam, a satellite city of Seoul, as well as compounding capability dedicated to the region.
The LNP™ product line started in 1948 in the USA, and is now available globally, providing innovative solutions. "We continue to push the limits of technical performance, solving new challenges with a can-do spirit. Wherever we hold our technical summits, our customers share their appreciation for our proactive approach to collaboration and our commitment to helping them develop improved solutions for new and existing applications," said Chiaw.
At the Seoul event, the attendees were informed of the latest solutions in the LNP™ product line offering potential advantages such as improved impact resistance (LEXAN™ EXL grades), superior flow, weatherability and scratch resistance (LEXAN™ SLX resins), high heat
resistance (LEXAN XHT/CXT resins, ULTEM™ resins), enhanced flame/smoke/toxicity properties (LEXAN FST resins, CFR resins and others), low wear and friction (LUBRICOMP™ resins, LUBRILOY™ resins), and thermal and electrical conductivity (STAT-KON™ resins, STAT-LOY™ resins, FARADEX™ resins, KONDUIT™ resins). There were also talks on SABIC's Global Application Technology (GApT) capability and on its circuit solutions for 5G communications and the Internet of Things.
"Korea is a leader in innovation and development in important sectors like mobility, e-mobility, and electronics," said Chiaw. "SABIC has an important role to play as a materials-based solutions supplier in all of these areas. With our LNP™ product line, we are continuing to collaborate with our customers, not only in Korea but all around the world, to solve their challenges and push forward the boundaries of technology together."
Reader enquiries
SABIC
Europaboulevard 1
6135 LD Sittard
Netherlands
+86 21 2037 8436
yvonne.yan@​sabic.com
www.sabic.com
---
Notes for editors
SABIC and brands marked with ™ are trademarks of SABIC or its subsidiaries or affiliates.
SABIC should be written in every instance in all uppercase.
ABOUT SABIC
SABIC is a global leader in diversified chemicals headquartered in Riyadh, Saudi Arabia. We manufacture on a global scale in the Americas, Europe, Middle East and Asia Pacific, making distinctly different kinds of products: chemicals, commodity and high performance plastics, agri-nutrients and metals.
We support our customers by identifying and developing opportunities in key end markets such as construction, medical devices, packaging, agri-nutrients, electrical and electronics, transportation and clean energy.
SABIC recorded a net profit of US$ 5.7 billion in 2018. Sales revenues for 2018 totaled US$ 45 billion while total assets stood at US$ 85 billion. Production in 2018 was 75.3 million metric tons.
SABIC has more than 33,000 employees worldwide and operates in around 50 countries. Fostering innovation and a spirit of ingenuity, we have 11,738 global patent filings, and have significant research resources with innovation hubs in five key geographies – USA, Europe, Middle East, South Asia and North Asia.
Related images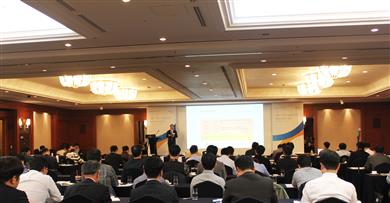 Also available in