13 Aug 2018
Polydist UK and SABIC announce broader strategic relationship
AMSTERDAM, THE NETHERLANDS, August 13, 2018 - Polydist UK is proud to introduce SABIC's Specialties products to their current portfolio of polymer resins. The products include the well-known SABIC brands NORYL™ resins, ULTEM™ resins and LNP™ compounds, co-polymer polycarbonate grades, and flame retardant grades of the resin brands LEXAN™, CYCOLOY™ and VALOX™.
The company became an official UK distributor for SABIC's Specialties products range from 10th of August 2018.
Polydist and SABIC have developed a strong and successful relationship since the signing of their first distribution agreement in 2015 covering SABIC® LDPE and LLDPE materials from the Wilton, Geleen and Gelsenkirchen plants.
SABIC has continuously invested in its Specialties range of resins and compounds. Typical examples include materials for moulding impellers to strict tolerances for pumps and home appliances, safety critical industrial applications in sectors including aerospace and railways, powder coating, conveyor systems and LED lighting.
SABIC offers technical support to designers so they can make optimal use of the typical material characteristics such as super-high modulus for metal replacement, flame retardancy at thin wall section for weight reduction, low friction and wear to reduce noise, hydrostability, antistatic and electrical conductivity. The materials are typically used by customers to extend product life span, reduce assembly costs and improve aesthetics.
Polydist will hold an extensive local inventory and will be able to offer small scale sampling for product development, prototyping and part testing needs. Samples can be delivered with a shortened lead-time to help support speed and flexibility in application development.
As official distribution partner, Polydist can also offer optimum pricing structures in UK for the branded Specialties range of products.
At signing the agreement, Pieter Keijer, Commercial Director of SABIC's Specialties business in the region said: 'We look forward to our broader relationship with Polydist and strengthening our business in the UK. Working together we can further develop our joint objective to proactively help customers find solutions to their toughest challenges.'
Richard Bradwell, CEO of Polydist commented: 'I am delighted to be working with SABIC on this innovative range of technical materials as they will add great value to our extensive portfolio. We highly value our longstanding relationships with our supply partners and aim to deliver the aspirations of SABIC and our customers across this exciting range of products.'
A Polydist product support team is available on their HOTLINE number: 0044 1283 517517 for all inquiries. Alternatively, they can be contacted at sabicinfo@polydistuk.com or via Polydist's live chat feature on their website 9am -5pm, Monday – Friday.
Reader enquiries
SABIC

Europaboulevard 1
6135 LD Sittard
Netherlands
---
Notes for editors
SABIC and brands marked with ™ are trademarks of SABIC or its subsidiaries or affiliates.
High-resolution photos are available upon request.
SABIC should be written in every instance in all uppercase.
© 2018 Saudi Basic Industries Corporation (SABIC). All Rights Reserved.
Any brands, products or services of other companies referenced in this document are the trademarks, service marks and/or trade names of their respective holders.
ABOUT SABIC
SABIC is a global leader in diversified chemicals headquartered in Riyadh, Saudi Arabia. We manufacture on a global scale in the Americas, Europe, Middle East and Asia Pacific, making distinctly different kinds of products: chemicals, commodity and high performance plastics, agri-nutrients and metals.
We support our customers by identifying and developing opportunities in key end markets such as construction, medical devices, packaging, agri-nutrients, electrical and electronics, transportation and clean energy.
SABIC recorded a net profit of SR 18.4 billion (US$ 4.9 billion) in 2017. Sales revenues for 2017 totaled SR 149.8 billion (US$ 39.9 billion). Total assets stood at SR 322.5 billion (US$ 86 billion) at the end of 2017. Production in 2017 stood at 71.2 million metric tons.
SABIC has more than 34,000 employees worldwide and operates in more than 50 countries. Fostering innovation and a spirit of ingenuity, we have 11,534 global patent filings, and have significant research resources with innovation hubs in five key geographies – USA, Europe, Middle East, South Asia and North Asia.
The Saudi Arabian government owns 70 percent of SABIC shares with the remaining 30 percent publicly traded on the Saudi stock exchange.
ABOUT POLYDIST UK
Polydist is an international polymer distribution company partnering some of the world's leading polymer producers. We are market leaders in distribution, sourcing and materials handling. Many of our dedicated and skilled staff have almost 30 years of experience in the plastics industry. We partner with leading polymer producers, serving a network of local consumers across the world. Offering a wide range of materials, a committed and experienced team, and sharing countless long-standing relationships.
Related images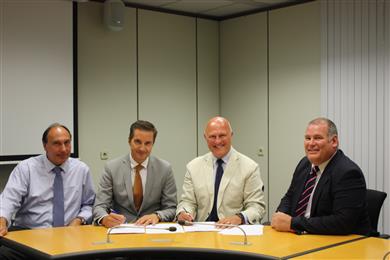 Editorial enquiries
Bianca Poorters
SABIC
Kevin Noels
Marketing Solutions NV