PE100+ Association

Founded in 1999, PE100+ Association is a global industry organization made of leading PE manufacturers (today 13) whose objective is to promote consistent quality at the highest level in the production and the use of PE100 pipe material. Safety and quality play critical roles in PE pipe applications. In 1999, three leading PE producers took the initiative to build up the Association to guarantee that PE100+ pipe materials meet the highest possible requirements. By monitoring the most critical properties of enhanced requirements, PE 100+ Association is able to issue a "PE100+ Association Quality Materials List" on a regular basis and is in preparation to issue in future an additional, separate PE100-RC+ Quality Materials List.
PE100+ Association
P.O. Box 137
7300 AC APELDOORN
Netherlands
28 Nov 2019

The PE100+ Association celebrates its 20th anniversary this year. Founded in 1999 to assure consistent quality at the highest level in the production and application of materials for PE100 pressure pipes, it is just as relevant today as it ever was.
10 Jan 2017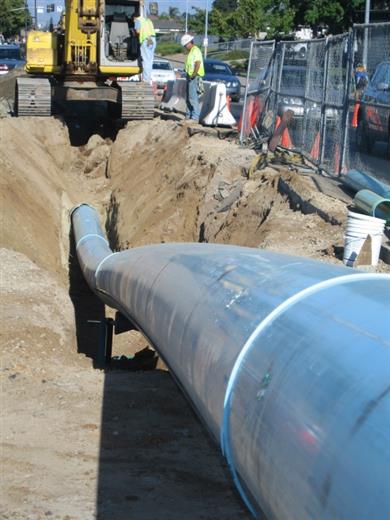 Apeldoorn, January 10, 2017 - An online guide that will help civil engineers identify the most suitable trenchless methods for installing 'PE100' high density polyethylene (HDPE) pressure pipe has been launched by the PE100+ Association. The association, whose aim is to promote a consistent and high level quality in production and use of polyethylene for PE100 pipes, is made up of HDPE producers from around the world.
24 Mar 2006
At the annual PE100+ Association member meeting on February 28, 2006 in Brussels, pipe business management of the seven member companies praised the achievements of the association in year 2005 and the image it has reached. The future direction of "Creating trust in high quality polyethylene (PE) pipes" was presented and well received by the members. "The industry appreciates the technical and promotion work of the PE100+ Association, which aims to create trust in high quality PE pipes - globally and in close co-operation with other associations" said Robin Bresser, the President of the PE100+ Association.
16 Mar 2005
At the annual Member meeting on February 22nd 2005, the PE100+ Association elected Robin Bresser, Borealis Pipe Marketing Manager, as its new President. André Scheelen from BP, the previous President, decided not to stay in the Board of the Association but will keep an active role in the Member meeting. The member companies appreciated Andre Scheelen for his great contribution and leadership in the development of the Association since its foundation in 1999. The newly elected Board members are as follows:
15 Jul 2002
At the 15th of July 2002, the PE100+ Association publishes the updated "PE100+ Association's Positive List of Materials". In total, twelve PE 100 products from five member companies met the PE100+ requirements and, as a consequence, are published on that list.