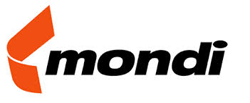 12 Sep 2023
Mondi makes it a (pallet) wrap with Robopac
Mondi and Robopac team up to offer a paper stretch wrapping solution, substituting unnecessary plastic.
Combining Mondi's knowledge about paper with Robopac's technical expertise in wrapping machines allows to efficiently wrap and safely transport various products on the pallet.
The new system can wrap up to 750 pallets with one reel of Mondi's recyclable Advantage StretchWrap paper.
12 September 2023 – Mondi, a global leader in sustainable packaging and paper, has partnered with Robopac, a world-leading manufacturer of pallet-wrapping machinery, to offer a seamless and more sustainable paper wrapping solution for pallet storage and transportation.
The two organisations collaborated closely to develop the solution, combining Mondi's expertise in packaging and paper with Robopac's know-how about wrapping machines. Robopac's new paper wrapping machine uses Mondi's Advantage StretchWrap which is 100% kraft paper, delivering excellent protection for palletised goods due to high strength, puncture resistance and tension absorption. The paper is created with responsibly sourced, renewable materials, containing no plastic or coating making it fully recyclable in existing waste streams across Europe.
Robopac's semi-automated and fully automated machines can both take Mondi's Advantage StretchWrap, allowing customers to replace unnecessary plastic which is currently the industry standard for pallet wrapping. An independent life cycle assessment (LCA) demonstrated that Advantage StretchWrap performed better in several environmental impact categories, such as climate change. The LCA found that it has 62% lower greenhouse gas (GHG) emissions when compared to virgin plastic stretch film, and 49% lower GHG emissions when compared to plastic stretch film made with 50% recycled content.
The semi-automatic machine is able to process a 25kg reel of Advantage StretchWrap to secure up to 40 pallets with one reel, every hour. The fully automated wrapping machine, meanwhile, can wrap up to 750 pallets with one reel, which equates to up to 60 pallets per hour. This solution was introduced at the 2023 Interpack fair, where delegates could witness first-hand the genuine, successful trials on the prototype.
Bartosz Babicz, Product Manager StretchWrap, Flexible Packaging Mondi, says: "We highly value the collaboration on eye-level with Robopac including a great exchange of expert knowledge, having similar core values within our companies. Close collaboration with our partners is key to transition to sustainable packaging solutions, therefore working with Robopac is truly driving our progress towards a circular economy and provides our customers a combination of state-of-the-art machinery with best quality wrapping paper."
Filiberto Felici, Robopac Product Manager adds: "Our biggest challenge was to adapt the paper material to the packaging operations, while ensuring maximum stabilisation of the customer's products during transportation with minimum use of resources. Using our own unique Cube Technology, we achieve maximum load stabilisation and are very satisfied with the effectiveness of our machines' performances in conjunction with Mondi's Advantage StretchWrap."
Mondi will host a webinar talking about the technical features of Advantage StretchWrap and sustainability impacts on Thursday, 21 September, at 10 am CET, featuring Bartosz Babicz, Product Manager StretchWrap at Mondi, and Julia Dunker, Sustainability Manager at Mondi. You can sign up for the free webinar here.
Reader enquiries
Mondi Group
Marxergasse 4A
1030 Vienna
Austria
---
Notes for editors
About Mondi
Mondi is a global leader in packaging and paper, contributing to a better world by making innovative solutions that are sustainable by design. Our business is integrated across the value chain – from managing forests and producing pulp, paper and films, to developing and manufacturing sustainable consumer and industrial packaging solutions using paper where possible, plastic when useful. Sustainability is at the centre of our strategy, with our ambitious commitments to 2030 focused on circular driven solutions, created by empowered people, taking action on climate.
In 2022, Mondi had revenues of €8.9 billion and underlying EBITDA of €1.8 billion from continuing operations, and employed 22,000 people worldwide. Mondi has a premium listing on the London Stock Exchange (MNDI), where the Group is a FTSE100 constituent, and also has a secondary listing on the JSE Limited (MNP).
About Robopac
Robopac is part of Aetna Group, a global company leader in sustainable solutions in the end-of-line packaging industry, with more than 200.000 machines installed. It operates with 12 subsidiaries, 4 foreign production companies (in China, Brazil, USA and Germany) and another 6 in Italy. Aetna Group produces and markets a wide range of solutions capable of responding to equally wide production requirements, with a high tailor-made packaging capacity and 24/7 assistance service around the world.
A further uniqueness of Robopac is the TechLab, the most advanced research laboratory system in the packaging industry. With the aim of reducing energy and material consumption, TechLab guarantees maximum packaging safety (product damage reduced up to 85% during transportation) and packing material savings of up to 60%. Results obtained scientifically, through unique machinery, simulations of various worst cases and strict accredited tests.
Related images
Editorial enquiries
Judith Wronn
Mondi Group
Kim Lommaert
EMG