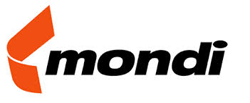 9 Jun 2020
Mondi's FlexiBag Recyclable tickles Fido's taste buds by keeping soft pet food fresh and succulent
Pet food maker Mera is the first to use pre-made, mono-material, recyclable plastic FlexiBags for its semi moist dog food
A new 12.5 kg bag is the largest sustainable FlexiBag Recyclable on the pet food market and has officially been certified for recyclability by Institute cyclos-HTP
The bag features a special aroma and fat barrier as well as optimised palletisation and convenient reclosure
09 June 2020 – German pet food maker Mera Tiernahrung GmbH has partnered with global leader in packaging and paper, Mondi, to expand its product line to include a new type of dog food with semi-moist croquettes. Mera realised that this type of pet food would require bespoke packaging to keep the chewable morsels fresh and moist for the duration of the product's life span, while also being sustainable by design.
Using Mondi's customer-centric approach, EcoSolutions, helps clients find the most effective and sustainable way to protect their products. Mondi recommended a packaging for Mera that addressed the practical aspects of food preservation without compromising on sustainability.
"Mondi's FlexiBag Recyclable is a mono-material, polyethylene-based product with a barrier that is fully recyclable. This 12.5 kg bag is the largest of its kind using recyclable packaging in the pet food sector," says Fitore Loshaj, Regional Sales DACH for Mondi Consumer Flexibles.
The bag has a tight seal to ensure long-term freshness and protect the pet food inside. The packaging is fitted with a special one-way valve, which only vents from the inside to the outside. With the help of this valve, the excess air can escape to improve transport when palletizing the filled packages. The resealable zipper makes it easy for the consumer to open and close the bag, and thanks to the attractive matt external finish, the packaging catches the eye on the shelf.
Institute cyclos–HTP GmbH, the Institute for Recyclability and Product Responsibility, independently tested and certified the material, rating it as 95% recyclable in those areas where suitable recycling infrastructures are in place.
"The adoption of FlexiBag Recyclable for this application advances Mera down the path toward increased sustainability. Sustainability is a top priority for us, and working together with Mondi to make our packaging better for the environment was a logical next step to help meet our goals. Mera is the first company in the pet food sector to be certified by the TÜV Rheinland according to the ZNU standard of sustainable management," said Mera Managing Director, Felix Vos.
According to the Mondi/Dow Premium Pet Packaging survey[1] customers are beginning to pay more attention to the bag along with what's inside it. In the same study, one in three pet owners claimed they would switch to a brand that offers more sustainable packaging.
[1] Mondi/Dow Premium Pet Packaging survey
Reader enquiries
Mondi Group
Marxergasse 4A
1030 Vienna
Austria
+43 1 79013 4059
www.mondigroup.com
mondi-group
---
Notes for editors
Technical details about FlexiBag Recyclable:
Many variations available related to material thickness, mono- or coextruded films, anti-slip variants)
Various reclosing systems available as zippers, sliders, hook-and-loop
Shelf stability
Linear tear with or without perforation available
Printable on all sides including the bottom
Top and bottom filling possible
Suitable for mechanical recycling where existing recycling systems are in place
About Mondi
Mondi is a global leader in packaging and paper, contributing to a better world by making innovative, packaging and paper solutions that are sustainable by design. Our business is fully integrated across the value chain – from managing forests and producing pulp, paper and plastic films, to developing and manufacturing effective industrial and consumer packaging solutions. Sustainability is at the centre of our strategy and intrinsic in the way we do business. We lead the industry with our customer- centric approach, EcoSolutions, where we ask the right questions to find the most sustainable solution. In 2019, Mondi had revenues of €7.27 billion and underlying EBITDA of €1.66 billion.
Mondi has a premium listing on the London Stock Exchange (MNDI), and a secondary listing on the JSE Limited (MNP). Mondi is a FTSE 100 constituent, and has been included in the FTSE4Good Index Series since 2008 and the FTSE/JSE Responsible Investment Index Series since 2007.
About MERA – The Petfood Family
MERA Tiernahrung GmbH is a family business from Kevelaer from the Lower Rhine area. Since the company was founded in 1949 by Karl Vos, the company has been family-owned and is now managed in its 3rd generation by Felix Vos. Our passion is the well-being of family pets. That's why we at MERA work hard every day to develop high-quality, nutritional concepts that are tailored to the needs of our loyal four-legged friends. The selection of valuable ingredients, highest quality controls as well as the careful manufacturing of our products in Germany, which are certified according to food standards in the areas of IFS and BRC, are part of MERA's tradition. In addition, the family-owned company had itself certified by TÜV Rheinland in 2019 according to the ZNU standard for sustainable business development. MERA produces more than 70,000 tons of dog and cat food per year and exports to over 40 countries throughout Europe, Asia and North America, making it one of the most successful premium manufacturers in the dog and cat food sector.