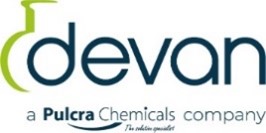 19 Sep 2022
Pushing the boundaries of bio: Devan launches new bio-based CBD capsules
NEW YORK - USA – With New York Market Week starting today, Devan Chemicals, part of the Pulcra Group, has unveiled its new bio-based CBD capsules. It's also showcasing R-Vital® innovations and expanded cooling solutions for foam, including a bio-based version.
Devan's next generation R-Vital® well-being technology enables manufacturers to boost their textiles with a range of microencapsulated active ingredients, for example powerful antioxidants, that are absorbed by our skin after being released from the capsule due to friction. Now the company has launched bio-based CBD capsules.
R-Vital® NTL: THC-free CBD bio-based capsules for a good night's sleep
Millions of people suffer from insufficient sleep due to insomnia or other sleep disorders. To address this, Devan has added cannabidiol, or CBD, to its R-Vital® NTL range of microencapsulated active ingredients derived from renewable biological resources. The rich CBD extract is known to have a balancing effect that could amongst other things help to facilitate a good night's sleep.
The CBD bio-capsules are part of the R-Vital® NTL range. The shell structure of the NTL capsules is based on a bio-based polymer and biodegradability tests showed very good results. The R-Vital® NTL range includes Aloe Vera, waste-material based Avocado Seed Oil and Vitamin E. Aloe Vera and Avocado Seed Oil are known to have moisturizing properties and Vitamin E is known to protect skin from free radicals and premature ageing. The bio-based range, R-Vital® NTL, is now durable up to 30 washes.
R-Vital® range: increased wash durability up to 50 washes
Devan is also pushing the performance of its R-Vital® well-being range in terms of wash durability. New recipes improve wash resistance to up to 50 cycles in both cotton and PES based fabrics. The enhanced textiles will last longer. This is a plus for the environment.
Tones of Cool® (Bio): Cooling on foam – for improved sleep quality
Research shows that bedroom interiors are getting warmer every year, due to both better insulation and climate change. On top of that, in the Home Textile industry new foams are being launched continuously. In response, Devan has developed a foam-specific cooling system, expanding its Tones of Cool® cooling range with a specific foam-solution. The instant cool sensation that Tones of Cool® provides is an important feature for consumers. A bio-based version, Tones of Cool® Bio, is also available.
Odor-free mattresses without use of biocides
Finally, Devan offers Odour Breakdown®, a non-biocidal odour control solution, that keeps mattress foam fresh, confirmed by independent laboratory tests against the ISO 17299 standard.
These and many more of Devan's technologies are represented at New York Market Week. For more information contact Devan: info@devan-us.com.
Reader enquiries
Devan Chemicals NV
Klein Frankrijkstraat 8
9600 Ronse
Belgium
---
Notes for editors
Devan Chemicals
Devan Chemicals is a worldwide developer of speciality chemicals for textiles, headquartered in Belgium and with offices in the UK, Portugal and the USA. The company was founded in 1977 and has a strong focus on innovation, research & development and sustainability. Devan is a leading innovator in the fields of protection (flame retardants), performance (odour control & stain release), thermoregulation (PCM's and cooling technologies such as Moov&Cool®), health & wellness (aromatherapy, R-Vital™ and allergen control) and fibres and yarns (functional masterbatch technologies). Devan is since June 2021 a Pulcra Chemicals company.
Pulcra Chemicals
Pulcra Chemicals is active in development, production and sales of textile, fiber and leather auxiliaries.Headquartered in Geretsried, Germany, Pulcra operates production and laboratory facilities, service centers and sales offices around the world. Its global network covers 13 different locations, a workforce of 1000 employees, with around 300 engineers and chemists that services more than 3000 customers globally. Based on its more than 145 years of partnering with textile, fiber and leather producers Pulcra has a long heritage and tradition in being the solution provider of choice for its customers.
Related images
Editorial enquiries
Sook Dekempe
Devan Chemicals NV
Kim Lommaert
Marketing Solutions NV