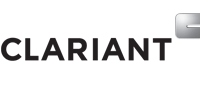 12 Feb 2019
Clariant Chemicals nine monthly sales at Rs. 771 crore
Mumbai, February 12, 2019 – Clariant Chemicals (India) Limited reported sales of Rs. 771 crore in the nine months of 2018-19, as against Rs.765* crore for the corresponding nine months of the previous year. The net profit stood at Rs, 19.34 crore as against Rs. 29.78 crore in the corresponding nine months of the previous year.
The Company reported sales of Rs. 250 crore, for the quarter ended December 31, 2018, as against Rs. 263 crore on comparable basis for the corresponding quarter of the previous year. The current quarter is not comparable due to the one-time provision and previous quarter includes one-time other income.
For more details and the reported extract of the financial result, please download the PDF of the press release.
Reader enquiries
Clariant International Ltd
Rothausstrasse 61
4132 Muttenz 1
Switzerland
+41 61 469 6742
www.clariant.com
@clariant
clariant
ClariantInternational
clariant_international
---
Notes for editors
Clariant is a globally leading specialty chemicals company, based in Muttenz near Basel/Switzerland. On 31 December 2017 the company employed a total workforce of 18 135. In the financial year 2017, Clariant recorded sales of CHF 6.377 billion for its continuing businesses. The company reports in four Business Areas: Care Chemicals, Catalysis, Natural Resources, and Plastics & Coatings. Clariant's corporate strategy is based on five pillars: focus on innovation and R&D, add value with sustainability, reposition portfolio, intensify growth, and increase profitability.
Clariant's listed entity in India - Clariant Chemicals (India) Ltd, headquartered in Mumbai includes the businesses Pigments, Masterbatches and Additives, which deliver solutions for the emerging industry sectors in India. The 800+ employees generated sales of INR 9.93 billion (year ended March 31, 2018). Clariant has also invested in a state-of-the-art Regional Innovation Center in Mumbai, with an aim to co-create tailor-made solutions with customers for the industry.
Clariant is committed to Responsible Care® and several external sustainability initiatives such as the Global Product Strategy and the United Nations Global Compact. Clariant is one of the top European chemical companies being part of Dow Jones Sustainability Indices.