BioVoice

De initiatiefnemers van BioVoice zijn Rewin, Green Chemistry Campus, de provincie Noord-Brabant en Rabobank.
Dockwize, Impuls Zeeland, KVK en Centre of Expertise Biobased Economy zijn als partner aangesloten voor de uitvoering van het programma. Samen willen wij dat innovatieve ondernemers en talent in de circulaire en biobased economie meer ruimte en stem krijgt.
BioVoiceREWIN West-Brabant
Cosunpark 22
4814 ND Breda
Netherlands
+31 76 56 46 780
www.biovoice.nl
@BiovoiceC
showcase/biovoice-boosting-biobased-business
@nvrewin
nv-rewin/
26 Jun 2019
Today, Willem Sederel, member of the board at the Biobased Delta Foundation, opened EMG's 6th Pre-K press event with a presentation about Biobased Circular Solutions for CO₂ reduction. "The Target for CO₂ reduction is clear. How we get there is not clear. Biobased solutions can make a significant contribution."  To view the presentation please click here.
19 Mar 2019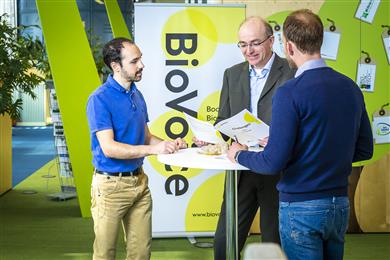 Als grote multinationals op zoek zijn naar nieuwe toepassingen en R&D afdelingen een proces willen optimaliseren, ligt de oplossing niet altijd voor de hand. Maar er zijn vaak wel kleine, innovatieve bedrijven en start-ups die uitkomst kunnen bieden. BioVoice, het nieuwe 'biobased business booster' programma van REWIN West-Brabant en Green Chemistry Campus, brengt deze twee werelden met elkaar in contact.