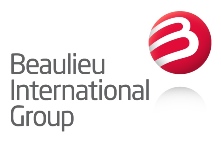 5 Jun 2018
Beaulieu Fibres International gets to the heart of Asia's growth segment needs at ANEX 2018
Fibres for automotive composites, technical textiles, hygiene and medical nonwovens
UltraLink fibres offer sustainable system cost reduction solutions to the automotive industry
Meralux offers improved liquid management for a dry feeling
Stand 2034, ANEX 2018, 6-8 June, Tokyo Big Sight, Japan
Wielsbeke, Belgium – June 05, 2018 – Beaulieu Fibres International, the leading European polyolefin fibre supplier, marks its Asia Nonwovens Exhibition and Conference (ANEX) debut with unique products and capabilities to support innovation at a local level within the automotive and hygiene segments.
At Stand 2034, Beaulieu Fibres International demonstrates its commitment to the global market growth for automotive composites and technical textiles, as interest increases in adopting lightweight materials to reduce vehicle weight and fuel efficiency.
The company will present UltraLink bonding fibres that improve the mechanical, thermal and functional properties of the final part, allowing customers to meet OEM specific standards in a more sustainable way. They are available in both MONO and BICO technology – a first for the composites industry.
Jefrem Jennard, Global Sales Director – Industrial Fibres, comments: "Beaulieu Fibres International developed UltraLink fibres over the past two years to provide an answer to the automotive industry's continuous strive for lower weight, lower emission, lower cost and better properties. They are being introduced in new global automotive programmes with SOP 2019-2021. We are delighted to introduce them to the Asian market at ANEX."
At ANEX 2018, Beaulieu Fibres International also presents its platform of unique Meralux fibres offering significant improvements to the dryness of nonwoven for hygiene and medical applications. The BICO fibre has a special cross section, which enables it to provide bulk, opacity and enhanced fluid management compared to standard round fibres to nonwoven constructions. As a result, a dry feeling is achieved for the final nonwoven.
Petra Bohle-Stricker, Global Sales Director – Hygiene Fibres, comments: "As Asia Pacific heads towards becoming the largest regional tissue and hygiene market by the end of 2025[1], nonwovens producers can already take advantage of the benefits of Meralux to launch new and innovative products that will grab the attention of global and local manufacturers. Visitors to our ANEX booth can experience Meralux fibres first-hand in nonwoven samples."
Since Meralux was first launched in April 2017, the portfolio has expanded to include Meralux T and Meralux Soft. Beaulieu Fibres International is currently expanding its production programme with polyester-core (PET) BICO. In addition a pilot line for new developments is under construction. Both are expected to come on stream in 2018.
Join the segment teams from Beaulieu Fibres International for their ANEX debut at Stand 2034, from 6-8 June 2018 at the Tokyo Big Sight, Japan.
Reader enquiries
Beaulieu International Group
Beaulieu Fibres International
Ooigemstraat 2B
Wielsbeke
Belgium
+32 56 66 81 91
www.beaulieufibres.com
---
Notes for editors
About Beaulieu Fibres International
As largest European producer of PP fibres, our company is part of the Engineered Products Business Unit of Beaulieu International Group, with headquarters in Belgium.
With three production sites in Europe – two in Belgium and one in Italy, we supply PP and PE/PP BICO fibres with linear densities of 0.9 den to 450 den to customers in industries such as Automotive, Hygiene, Geotextiles, Flooring, Filtration and Upholstery. Our broad portfolio includes colored fibres, high elongation fibres, high tenacity fibres, ultrasoft fibres with different cross-sections, including trilobal, suitable for a wide range of processing technologies. Beaulieu Fibres International has 235 employees and reported a turnover of 188 million euros in 2017.
Member of Beaulieu International Group
Beaulieu International Group (B.I.G.) is a renowned international group with a strong position in the raw materials and semi-finished products market. Our solutions also include a wide range of finished floorcoverings. Beaulieu International Group has 4,553 employees in 25 plants, 14 sales offices and distribution plants spread across 14 countries. In 2017, the Beaulieu International Group´s turnover was 1.8 billion euros.
Beaulieu International Group is composed of three business units: "Granules" produces polypropylene granules for numerous applications. "Engineered Products" houses the activities Fibres, Yarns, Technical Textiles and Technical Sheets. "Flooring Solutions" is the European leader in wall-to-wall floor coverings, producing carpet, needle felt, cushion vinyl, LVT and wood. The Beaulieu International Group's entrepreneurial spirit and innovative ambitions make it a model of diversity and progress within the sector. These assets allow it to create sustainable added value for customers, employees, suppliers, shareholders and for the society in which it operates.
Related images
Also available in