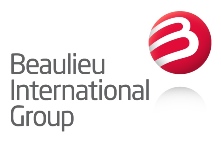 9 May 2017
Beaulieu Technical Textiles turns spotlight on extrusion coating & laminating capabilities at Techtextil 2017
Fully automated line for adding an extruded layer to PP, PE & PES fabrics
Customisation opportunities for woven & nonwoven technical textiles
Meet the experts at Techtextil 2017, Hall 4.1 Booth F13, 9-12 May, Frankfurt-am-Main, Germany
Comines-Warneton, Belgium – May 9, 2017 – Beaulieu Technical Textiles (BTT) brings its specialised extrusion coating & extrusion laminating support for industrial applications to the fore at this year's Techtextil showcase in Hall 4.1. Booth F13.
Technical textile producers are invited to discover the diverse finishing and innovative customisation opportunities possible with BTT's advanced, fully automated line for Polypropylene (PP), Polyethylene (PE) and Polyester (PES) woven fabrics and nonwovens.
BTT's extrusion coating process can apply a wide range of polymers as a liquid layer – one-sided, two-sided or multi-layer – to make a fabric printable and/or achieve specific protective and functional performance, including waterproofing, flame resistance and antistatic properties. Optional UV stabilisation is also offered. Transparent and white transparent, standard white and black, and coloured coating options are available. Coatings range from minimum 25-30 g/m² up to 450 g/m². As well as standard widths, BTT offers extensive possibilities to customise lengths and widths, with supplementary cutting provided on a separate line with up to 6 cutters in width.
In addition to extrusion coating, BTT is also equipped for extrusion laminating to support the production of composite structures.
Franky Viaene, Global Sales Manager Beaulieu Technical Textiles, comments: "As an established leader and driving force in technical textiles, Beaulieu Technical Textiles supports a wide range of customers in varied markets, and our expertise extends right through to the finishing process. Our in-house extrusion capabilities are available to external customers and we offer close technical collaboration to ensure the optimal treatment for the desired result for their application. We're looking forward to discussing new possibilities for the industry to benefit from our support, starting at Techtextil."
Beaulieu Technical Textiles will feature its extrusion coating and extrusion laminating capabilities alongside its customer-oriented and market-specific textile solutions at Techtextil 2017 Booth F13 from 9-12 May in Frankfurt-am-Main, Germany.
Reader enquiries
Beaulieu International Group
Beaulieu Technical Textiles
Ooigemstraat 2B
Wielsbeke
Belgium
+32 56 66 81 91
www.beaulieutechnicaltextiles.com
---
Notes for editors

Beaulieu Technical Textiles
Beaulieu Technical Textiles, member of the Beaulieu International Group, is an established leader and driving force in the global market of technical textiles. They combine a pioneering spirit with hands-on expertise. Its dedicated line-up of benchmark products is engineered to provide a tailored and high-tech response to present and future trends and demands. The result: a range of solutions that demonstrate exceptional quality and durability. Beaulieu Technical Textiles represents the cutting edge in the customer-oriented and market-specific production of polymer textiles. Its name has become a mark of excellence in the fields of carpet backings, agrotextiles, geotextiles, packaging and building textiles.
Beaulieu International Group
Beaulieu International Group is a renowned international group with headquarters in Belgium. Today this industrial group holds a solid market position both in producing raw materials and intermediate goods and in offering an extensive range of perfectly finished floorcoverings.
Beaulieu International Group is composed of three business units. 'Flooring Solutions' is the European leader in wall-to-wall floorcoverings (carpet, needle felt, artificial grass, cushion vinyl, vinyl planks, laminate, parquet & wall panels). A second business unit, 'Polymers', produces polypropylene granules for numerous applications and 'Technical Sheets'. And the third business unit, 'Engineered Products', houses the activities 'Fibres', 'Yarns' and 'Technical Textiles'.
Beaulieu International Group has 4.519 employees in 25 plants, 14 sales offices and distribution centres spread across 15 countries. In 2016, the Beaulieu International Group´s turnover was €1.7 billion.
The Beaulieu International Group's entrepreneurial spirit and innovative ambitions make it the model of diversity and evolution within the sector. They allow it to create added value sustainably for customers, employees, suppliers, shareholders and for the society in which it operates.