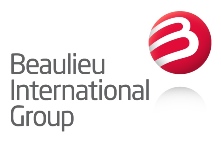 28 Apr 2017
Beaulieu International Group safety-awareness initiatives in full swing on International Safety Day
Wielsbeke, Belgium – April 28, 2017 – The business unit "Engineered Products" of Beaulieu International Group is pleased to announce excellent safety results for the production sites of its Beaulieu Fibres International division, on the occasion of International Safety Day 2017. The Fibres division has no recorded accidents at its Terni, Italy site in the last 2 years or during the last 20 months at its Belgian sites.
The BU Beaulieu Engineered Products is committed to achieving similar strong safety performance in its Yarns and Technical Textiles divisions and has now fully launched a customised behaviour-based safety programme at 3 specific production sites in Belgium and France. This B.I.G. Behave Safely programme aims to minimize the number and severity of accidents and incidents.
Initiatives in progress actively involve employees in workshops, training events and coaching sessions on safety rules and instructions. Plus, an awareness-raising poster campaign draws daily attention to the importance of behaving safely.
Karena Cancilleri, Vice President BU Engineered Products, comments: "Beaulieu International Group is very serious about safety and has a Global Safety Policy that strives to offer a safe working environment to all employees. Improving safety behaviour is a continuous priority and the Engineered Products Business Unit has taken this to heart. We are excited to make a proactive contribution with B.I.G. Behave Safely and look forward to the positive impact of having our production teams for Beaulieu Yarns and Beaulieu Technical Textiles on board, to keep up the momentum of our Fibres division."
Reader enquiries
Beaulieu International Group
Kalkhoevestraat 16 bus 0.1
8790 Waregem
Belgium
+32 56 62 59 00
@BeaulieuGroup
beaulieu-international-group
beaulieuinternationalgroup
beaulieugroup
---
Notes for editors

Beaulieu International Group
Beaulieu International Group is a renowned international group with headquarters in Belgium. Today this industrial group holds a solid market position both in producing raw materials and intermediate goods and in offering an extensive range of perfectly finished floorcoverings.
Beaulieu International Group is composed of three business units. 'Flooring Solutions' is the European leader in wall-to-wall floorcoverings (carpet, needle felt, artificial grass, cushion vinyl, vinyl planks, laminate, parquet & wall panels). A second business unit, 'Polymers', produces polypropylene granules for numerous applications and 'Technical Sheets'. And the third business unit, 'Engineered Products', houses the activities 'Fibres', 'Yarns' and 'Technical Textiles'.
Beaulieu International Group has 4.519 employees in 25 plants, 14 sales offices and distribution centres spread across 15 countries. In 2016, the Beaulieu International Group´s turnover was €1.7 billion.
The Beaulieu International Group's entrepreneurial spirit and innovative ambitions make it the model of diversity and evolution within the sector. They allow it to create added value sustainably for customers, employees, suppliers, shareholders and for the society in which it operates.