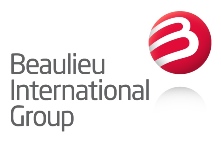 4 Jan 2018
Beaulieu Yarns out to inspire bold, colourful designs for high-end contract carpet tiles
Highest resilience classification to suit commercial office, hospitality & leisure, education & healthcare environments
Endless colour choice and multilevel design loop (MLDL) options proven to work well with state-of-the-art and new tufting technology machines
Demonstrated at Beaulieu Yarns in Hall 11 Stand B56 Domotex 2018, 12-15 January, Hannover, Germany
Wielsbeke, Belgium – January 4, 2018 – Beaulieu Yarns, the global supplier of high-quality synthetic polyamide and polypropylene yarns, unveils exciting potential for the high-end carpet tile market to fulfil its boldest colour and multilevel design desires with its series of multi-colour Solution Dyed Yarns.
Featuring at Domotex 2018, the extra-resilient polyamide (PA) yarns meet the highest standards (Class 33) for the strongest and heaviest contract applications, such as in commercial offices, hospitality & leisure, education & healthcare premises. The yarns are produced as multi-colour Solution Dyed Yarns from 2600 to 3200 Dtex. Beaulieu Yarns' in-house masterbatch department offers customers access to endless colour and contrast possibilities meaning that yarns are fully customizable to suit latest trends and the incorporation of novel design patterns.
To demonstrate the design flexibility, the team focused on "Biophillic Designs", a trend in the market related to the magnificence of nature, creating two proprietary designs inspired by the coast of Normandy, France and the Australian Barrier Reef.
Beaulieu Yarns worked closely with key customer TAPIBEL on a project to test out the feasibility and resilience of the new yarns on the new tufting technology machines favoured by tufters serving the high segments of contract carpet. Within the INCATI brand TAPIBEL will launch the resulting new carpet tile range at Domotex 2018 (Hall 11, Booth C43).
Further innovative and structured designs were also produced on new tufting technology in Brazil through Beaulieu do Brazil. It shows a replica of the barrier reef in contract carpet planks set to feature as the central design theme at Beaulieu Yarns' Domotex booth. In the run-up to Domotex, other key industry players got inspired by the high-quality yarns for their new collections of broadloom contract carpet.
"Supporting our customers' innovation in new tufting technology is very important to us and we are therefore delighted to offer a broad series of yarns for high-end carpets that really paves the way for them to expand their creativity in tile design and structure," comments Emmanuel Colchen, Global Sales Director Beaulieu Yarns. "The development project with our key accounts is a great example of our industry-exclusive approach to development support, with customers able to explore colour choice and finalize their collections on-site at our global development centre."
Beaulieu Yarns invites Domotex visitors to discover its extra-resilient yarns, including new sustainable yarn options, at Hall 11 Booth 56, 12-15 January 2018, Hannover, Germany.
Reader enquiries
Beaulieu International Group

Beaulieu Yarns
Ooigemstraat 2B
Wielsbeke
Belgium
---
Notes for editors

Beaulieu Yarns
Beaulieu Yarns is an independent entity within the Belgian family-owned business Beaulieu International Group and part of its Engineered Products Business Unit. It is a leading manufacturer of polyamide (PA) and polypropylene (PP) yarns for contract, automotive, residential and technical applications. Its products are supplied in the form of bulk continuous filament (BCF) and ennobled yarn (twist, heatset and frisé). Beaulieu Yarns distinguishes itself with an entrepreneurial yet simultaneously warm-hearted partnership approach, inspired by an open, SME culture, to create a wide range of high-quality yarns and related services that are often developed in close collaboration with customers and always with due respect to man and nature.
Beaulieu Yarns has two production sites in Europe – one in Belgium, one in France – and one production site in China.
Beaulieu International Group
Beaulieu International Group is a renowned international group with headquarters in Belgium. Today this industrial group holds a solid market position both in producing raw materials and intermediate goods and in offering an extensive range of perfectly finished floorcoverings.
Beaulieu International Group is composed of three business units. 'Flooring Solutions' is the European leader in wall-to-wall floorcoverings (carpet, needle felt, artificial grass, cushion vinyl, vinyl planks, laminate, parquet & wall panels). A second business unit, 'Polymers', produces polypropylene granules for numerous applications and 'Technical Sheets'. And the third business unit, 'Engineered Products', houses the activities 'Fibres', 'Yarns' and 'Technical Textiles'.
Beaulieu International Group has 4.519 employees in 25 plants, 14 sales offices and distribution centres spread across 15 countries. In 2016, the Beaulieu International Group´s turnover was €1.7 billion.
The Beaulieu International Group's entrepreneurial spirit and innovative ambitions make it the model of diversity and evolution within the sector. They allow it to create added value sustainably for customers, employees, suppliers, shareholders and for the society in which it operates.