21 Jan 2016
sunliquid® is awarded the 2015 German Innovation Prize for Climate and Environment
sunliquid prevailed against 14 competitors in the category Process Innovations
Cellulosic ethanol made with sunliquid® technology is groundbreaking for climate and environmental protection
Biofuel enables up to 95% savings in greenhouse gas emissions without competing with food resources
Muttenz, January 21, 2016 – Clariant, a world leader in specialty chemicals, was honored for its innovative sunliquid technology for the production of cellulosic ethanol from agricultural residues as part of the 2015 German Innovation Prize for Climate and Environment (IKU). The biotechnological process was awarded first place in the Process Innovations category and thus prevailed against 14 competitors.
The sunliquid technology convinced the jury of independent experts in the area of business, science, media and politics, chaired by Professor Klaus Töpfer. Biofuels and bio-based chemicals made from agricultural residues such as wheat straw are produced sustainably and economically using this process without competing with food or feed production.
»Clariant is continually investing in the development of sustainable products from renewable raw materials and in the exploration of innovative biotechnologies such as sunliquid. This pioneering process has great potential for the production of environmentally compatible biofuels and a multitude of bio-based raw materials that are suitable for various specialty products, such as those of the cosmetic industry,« says Clariant CEO Hariolf Kottmann.
»Biofuels from agricultural residues play a key role in making mobility more sustainable worldwide. Greenhouse gas emissions can be reduced by up to 95 percent compared with fossil fuels. The award from the Federal Ministry validates our approach and of course we are very pleased,« adds Andre Koltermann, Head of Group Biotechnology at Clariant.
With the IKU the Federal Ministry for the Environment, Nature Conservation, Building and Nuclear Safety (BMUB) and the Federation of German Industries (BDI) awarded innovative projects focused on climate and environmentally friendly processes, products and services for the fifth time. The jurors based their selection on the profound technical analysis of all applications by the Fraunhofer Institute for Systems and Innovation Research (ISI). The award ceremony with Federal Environment Minister Barbara Hendricks and Holger Lösch, member of the BDI Executive Board, took place at the BMUB in Berlin. The award comes with a cash prize of 25,000 euros.
Learn more by watching IKU's video about sunliquid www.youtube.com/watch?v=3ZONmtAQWzA or visit www.clariant.com/sunliquid.
Reader enquiries
Clariant International Ltd
Rothausstrasse 61
4132 Muttenz 1
Switzerland
---
Notes for editors

sunliquid® IS A TRADEMARK OF CLARIANT REGISTERED IN MANY COUNTRIES.
Clariant is a globally leading specialty chemicals company, based in Muttenz near Basel/Switzerland. On December 31, 2014 the company employed a total workforce of 17 003. In the financial year 2014, Clariant recorded sales of CHF 6.116 billion for its continuing businesses. The company reports in four business areas: Care Chemicals, Catalysis, Natural Resources, and Plastics & Coatings. Clariant's corporate strategy is based on five pillars: increase profitability, reposition portfolio, add value with sustainability, foster innovation and R&D, and intensify growth.
sunliquid® is an innovative, biotechnological process for manufacturing cellulosic ethanol from agricultural residues, such as cereal straw, corn stover or sugarcane bagasse. During the fully integrated process, highly optimized, feedstock-specific biocatalysts split cellulose and hemicellulose into fermentable sugars under stable processing conditions in high yields. As a result, the process-integrated production of the biocatalysts offers flexibility and reduces production costs. In the next step, an optimized fermentation organism allows both C5 and C6 sugars to be converted into ethanol, thereby increasing the ethanol yield by about 50 percent. An innovative purification process developed by Clariant is instrumental in enabling all the energy required for the process to be harvested from the insoluble residue lignin. The resulting cellulosic ethanol saves about 95% of CO2 emissions in comparison to fossil fuels. Since July 2012, Clariant has been operating a pre-commercial plant in Straubing, producing up to 1.000 metric tons of cellulosic ethanol from around 4.500 metric tons of raw materials each year.
Related images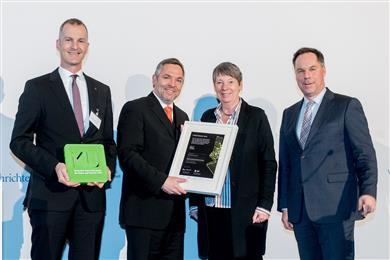 Editorial enquiries
Carsten Seum
Clariant International Ltd
Claudia Kamensky
Clariant International Ltd
claudia.kamensky@​clariant.com
Anja Pomrehn
Investor Relations
Clariant International Ltd
Siegfried Schwirzer
Investor Relations
Clariant International Ltd