18 Jan 2016
Hirschmann and Secomea Sign Partnership Agreement for Innovative Remote Access Solutions
Neckartenzlingen - January 18, 2016 - Belden Inc, a global leader in signal transmission solutions for mission-critical applications, has announced that its Hirschmann Automation and Control business has signed a formal partnership agreement with Secomea A/S, a leading provider of Remote Access Solutions for the automation and machine industry. The two companies have agreed to work together to develop new, easy to use Secure Remote Access Solutions – which will enable users to remotely access their sites for programming, diagnostics and troubleshooting.
Hirschmann and Secomea have already partnered on the development of a soon-to-be launched application, a new Hirschmann Secure Remote Access Solution to provide remote network access, programming and diagnostics. The simple set-up, ease of use and secure technology make the Hirschmann Secure Remote Access Solution ideal for the machine building, automotive and food and beverage industries, which often need remote access to plants and machinery around the world. Remote access reduces the need for travel and allows staff to work more efficiently by handling multiple systems simultaneously.
"Working with Secomea will enable us to expand our range with new and different hardware variants." said Johannes Pfeffer general manager and VP core networking Industrial IT Solutions at Hirschmann. "Working in partnership, we intend to develop a full range of Secure Remote Access products, which we believe will form an increasingly important part of our product portfolio in the future."
Michael Ferdinandsen, CEO of Secomea, said: "Hirschmann/Secomea combined Secure Remote Access hardware and software systems will help companies leverage the increased connection of devices, in line with the latest developments around the Industrial Internet of Things and Industrie 4.0."
Reader enquiries
Belden
P.O. Box 9
5900 AA VENLO
Netherlands
+31 77 387 8555
www.belden.com
@BeldenInc
Beldeninc
BeldenInc
---
Notes for editors

An early innovator in industrial Ethernet, Belden knows Industrial IT and is delivering the next generation of industrial networking solutions. Its global brands – Hirschmann, GarrettCom and Tofino Security – are leading the way in the adoption of industrial Ethernet. With a purpose-built portfolio, Belden's wired, wireless and embedded products deliver the highest confidence of reliability, availability and security. In addition, excellent warranties and dedicated customer support minimize downtime, protect critical infrastructure and provide peace of mind.
About Belden
Belden Inc., a global leader in high quality, end-to-end signal transmission solutions, delivers a comprehensive product portfolio designed to meet the mission-critical network infrastructure needs of industrial, enterprise and broadcast markets. With innovative solutions targeted at reliable and secure transmission of rapidly growing amounts of data, audio and video needed for today's applications, Belden is at the center of the global transformation to a connected world. Founded in 1902, the company is headquartered in St. Louis and has manufacturing capabilities in North and South America, Europe and Asia. For more information, visit us at www.belden.com; follow us on Twitter: @BeldenInc.
About Secomea
Secomea A/S is a privately owned company and one of the leading providers of remote access solutions for the automation and machine industry. Over the years, Secomea has built a strong line of Firewall/VPN and Remote Access to Industrial Equipment solutions with emphasis on making the solutions easy to install, setup and use – especially for non IT-literate people. This is implied in the company name; Secomea is an abbreviation of "Secure communication made easy."
Belden, Belden Sending All The Right Signals, Hirschmann, GarrettCom, Tofino Security and the Belden logo are trademarks or registered trademarks of Belden Inc. or its affiliated companies in the United States and other jurisdictions. Belden and other parties may also have trademark rights in other terms used herein.
Related images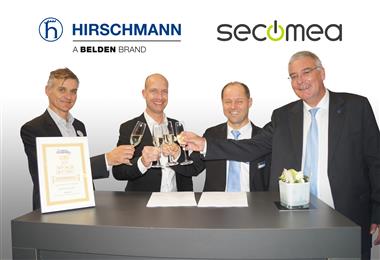 Also available in