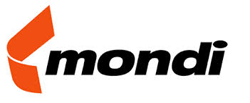 30 Mar 2021
Mondi's new packaging for Bell Germany's 'Abraham' ham range requires 37% less material and saves 35 tonnes of plastic
Food producer Bell Germany is set to launch new recyclable packaging for its sliced ham range, developed by Mondi and available on shelves in spring 2021
Mondi's WalletPack protects the ham, and the environment, by preventing food spoilage and improving recyclability
The lightweight material decreases plastic waste by 35 tonnes per year for Bell Germany
30 March 2021 – Mondi, a global leader in packaging and paper, has produced recyclable packaging for Bell Germany's 'Abraham' range of thinly sliced gourmet ham that ensures perfect conformity with existing recycling guidelines.
Bell Germany is launching a mono-material recyclable WalletPack in March for over 30 products including Seranno, Prosciutto and Savoy sliced ham. The new solution will replace a multi-material non-recyclable plastic solution, using 37% less material compared to standard modified atmosphere packaging. This switch will also reduce plastic waste for Bell Germany by 35 tonnes per year thanks to the lightweight solution. It will also lower waste disposal fees for Bell Germany and meets the design for recycling guidelines of leading retailers[1].
Created after two years of development, the new Mondi WalletPack operates as a folder, which the consumer opens to unpack the product. It features a re-close function on the backside to prevent food spoilage, provides excellent protection for thinly sliced deli meats, and has been verified by the German institute cyclos-HTP as 93% recyclable.
Thomas Kahl, EcoSolutions Project Manager, Mondi, says: "Our aim is to create packaging that is sustainable by design. It should be better for the environment, while protecting the food, and standing out on shelves to represent the Abraham brand. Our unique EcoSolutions approach takes all these elements into consideration: we worked closely with Bell Germany at every stage to ensure that this was the best solution for all their products."
Jessica Trautmann, Senior-Productmanager, Bell Deutschland adds: "As with all food packaging, the priority is to protect the contents, however it has been our aim for some time to improve the recyclability of our packaging as we look to make all parts of our business more sustainable. Mondi has been a valuable partner in the creation of this solution and we are delighted to be launching this new packaging that is recyclable, while being functional and attractive on the shelf."
The new packaging will be launched with German retailers from March 2021.
Learn more about our EcoSolutions approach here.
[1] Figures on savings calculated by Bell Germany.
Reader enquiries
Mondi Group
Marxergasse 4A
1030 Vienna
Austria
+43 1 79013 4059
www.mondigroup.com
mondi-group
---
Notes for editors
About Mondi
Mondi is a global leader in packaging and paper, contributing to a better world by making innovative packaging and paper solutions that are sustainable by design. Our business is integrated across the value chain – from managing forests and producing pulp, paper and plastic films, to developing and manufacturing effective industrial and consumer packaging solutions. Sustainability is at the centre of our strategy and intrinsic in the way we do business. We lead the industry with our customer-centric approach, EcoSolutions, where we ask the right questions to find the most sustainable solution. In 2020, Mondi had revenues of €6.66 billion and underlying EBITDA of €1.35 billion.
Mondi has a premium listing on the London Stock Exchange (MNDI), and a secondary listing on the JSE Limited (MNP). Mondi is a FTSE 100 constituent, and has been included in the FTSE4Good Index Series since 2008 and the FTSE/JSE Responsible Investment Index Series since 2007.
Related images