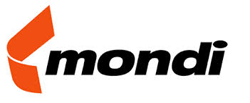 19 Aug 2020
Howling success: zooplus' own brand 'Wolf of Wilderness' introduces recyclable packaging delivered by Mondi
New flavours of zooplus' premium pet food brand 'Wolf of Wilderness' to use Mondi's recyclable, sustainable packaging
Mono-material constructions provide vital barrier properties & aesthetics
Sustainable flexible packaging suitable for European e-commerce
19 August 2020 – Mondi, a global leader in packaging and paper, is supplying a sustainable mono-material, recyclable packaging for zooplus AG, the leading European pet food online retailer. The sustainable packaging is used for a new dry dog food product line for their own top brand 'Wolf of Wilderness'.
Mondi is supplying zooplus with a pre-made FlexiBag Recyclable and BarrierPack Recyclable form-fill-and-seal (FFS) reel material, which are both certified recyclable by the Institute cyclos HTP which specialises in the classification, assessment and certification of recyclability of packaging.
In order to meet growing consumer demand for sustainable packaging, zooplus is using the new material for 'Wolf of Wilderness', their flagship brand in their own brand portfolio. A recent June 2020 survey by Mintel shows that German consumers remain mindful of the environment and that increasing the circularity of packaging can benefit brands[1]. Alongside this demand for sustainable products, the pet care market overall has grown steadily over the last few years in Europe (from 25 billion Euro in 2015 to around 30 billion Euro in 2019[2]) and especially e-commerce has recently been accelerated by the COVID 19 crisis[3].
While seeking greater recyclability for its packaging, the online retailer was not willing to compromise on any performance properties, including barrier protection, or aesthetics. Mondi's materials provide all the necessary barrier properties to protect against the unwanted transmission of moisture, oxygen and odours with a high premium look and feel.
Mondi's expertise made it possible to maintain the desired aesthetics on the packaging, so that the previously metallised highlights on the label and in the eyes of the wolf are also recyclable.
"The success of 'Wolf of Wilderness' shows that we have our finger on the pulse for species-appropriate, convenient and high-quality food that dogs love. That is why Mera Tiernahrung, who has been contributing to our success for years, manufactures the dog food. As a consequence, we only considered a sustainable and high-quality solution to package the new flavours," noted Dominik Mayer, Senior Product Manager for 'Wolf of Wilderness' at zooplus.
"Mondi leverages its customer-centric EcoSolutions approach to create sustainable packaging by design without compromising on quality. By applying our extensive materials knowledge we were able to replicate the look without the use of any metallic substances to produce recyclable packaging," said Thomas Kahl, Project Manager EcoSolutions for Mondi.
The products are now available at zooplus.
[1] Source: Mintel, Attitudes towards Packaging, June 2020
[2] Source: Euromonitor International 2019
[3] Source: Euromonitor International 2020
Reader enquiries
Mondi Group
Marxergasse 4A
1030 Vienna
Austria
+43 1 79013 4059
www.mondigroup.com
mondi-group
---
Notes for editors
About Mondi
Mondi is a global leader in packaging and paper, contributing to a better world by making innovative, packaging and paper solutions that are sustainable by design. Our business is fully integrated across the value chain – from managing forests and producing pulp, paper and plastic films, to developing and manufacturing effective industrial and consumer packaging solutions. Sustainability is at the centre of our strategy and intrinsic in the way we do business. We lead the industry with our customer- centric approach, EcoSolutions, where we ask the right questions to find the most sustainable solution. In 2019, Mondi had revenues of €7.27 billion and underlying EBITDA of €1.66 billion.
Mondi has a premium listing on the London Stock Exchange (MNDI), and a secondary listing on the JSE Limited (MNP). Mondi is a FTSE 100 constituent, and has been included in the FTSE4Good Index Series since 2008 and the FTSE/JSE Responsible Investment Index Series since 2007.
About zooplus AG
zooplus AG was founded in 1999 and today is Europe's leading online retailer of pet supplies measured by sales. Sales totaled more than EUR 1.5 bn in the 2019 financial year. The company's business model has been launched successfully in roughly 30 European countries. zooplus sells products for all major pet breeds. The product range includes pet food (dry and wet food and food supplements) and accessories such as scratching posts, dog baskets, and toys in all price categories. In addition to a selection of over 8,000 products, zooplus customers benefit from a variety of interactive content and community offerings. The pet supplies market is an important market segment in the European retail landscape. Gross sales of pet food and accessories within the European Union amount to around EUR 30 bn. Based on the continued vigorous growth anticipated in the European E-commerce market, zooplus expects its dynamic performance to continue.
Online at: www.zooplus.de
Related images
Also available in