13 Dec 2017
GE Additive reveals prototype of new binder jet machine
Cincinnati, 13 December 2017 – GE Additive has released the first image of a prototype of a brand new additive machine (project name H1) based on binder jet technology that will eventually challenge the need for castings. Further iterations of this machine will be made in early 2018 with the first production machines being shipped mid-2018.
The new binder jet machine which can print large parts with a range of materials, including stainless steel, nickel and iron alloys is set to disrupt traditional manufacturing techniques. The new machine aims to remove the need for castings and therefore expensive tooling, molds and infrastructure are not required. This first machine is faster than any binder jet machine on the market today.
Mohammad Ehteshami, Vice President and General Manager, GE Additive said, "We see great demand for binder jet technology in the aerospace and automotive sectors. We are committed to accelerating the additive manufacturing industry and will continue to build on our strength in the laser and EBM modalities by developing and bringing new technologies to market. We have a progressive approach to innovation and product development. I challenged the team to develop this new machine in 55 days. They came in ahead of time with the process of concept to first print taking only 47 days."
Reader enquiries
GE Additive

---
Notes for editors

About GE Additive
GE Additive is part of GE (NYSE: GE) - the world's Digital Industrial Company, transforming industry with software-defined machines and solutions that are connected, responsive and predictive. GE Additive includes additive machine providers Concept Laser and ArcamEBM; along with additive material provider AP&C and additive service provider to the medical industry, DTI. As a notable user of additive technologies GE recognize the value and potential it brings to modern design and manufacturing. GE is organized around a global exchange of knowledge, the "GE Store," through which each business shares and accesses the same technology, resources and intellect. GE delivers better outcomes for customers by speaking the language of industry. www.ge.com/additive.
Related images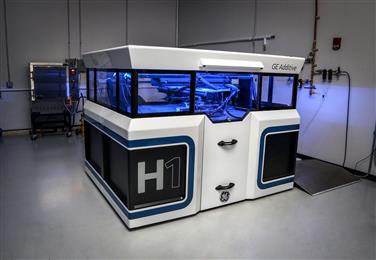 Editorial enquiries
Kristóf Kovács
EMG